International model Emily Ratajkowski, in a short golden dress on the Versace show, at Milan Fashion Week, where Emily appeared with a very graceful body, especially since her appearance came only six months after birth.
The 30-year-old model and actress presented a stunning fashion show as she swayed gracefully on the runway in the Italian city, and completed her look with a gold necklace from Fendi.
This comes as fashion models united in a scene that combines the past and the present, yesterday evening, Sunday, as models Kate Moss and Naomi Campbell, along with Gigi Hadid and Emily Ratajkowski, joined the catwalk in a special event for the Versace fashion house, which was held in honor of Milan Fashion Week, which showcased designs made for the first time jointly by Versace and Fendi, according to the Daily Mail.
The three models, Kate Moss, Naomi Campbell and Gigi Hadid, led the Donatella Versace fashion show, which was held in association with the brand. FendiAnd Versace's official page on Instagram commented, regarding the collaboration between the two brands, "It is the first in the history of fashion for two designers to have a true creative dialogue that stems from respect and friendship. This dialogue led us to exchange roles to create two collections.. And Donatella Versace took to the catwalk. To make her own show with Fendi… by incorporating the famous safety pins."
As Kate, 47, made her way across the dimly lit catwalk, looking like an old professional in a black cut-out design and gold-patterned gown.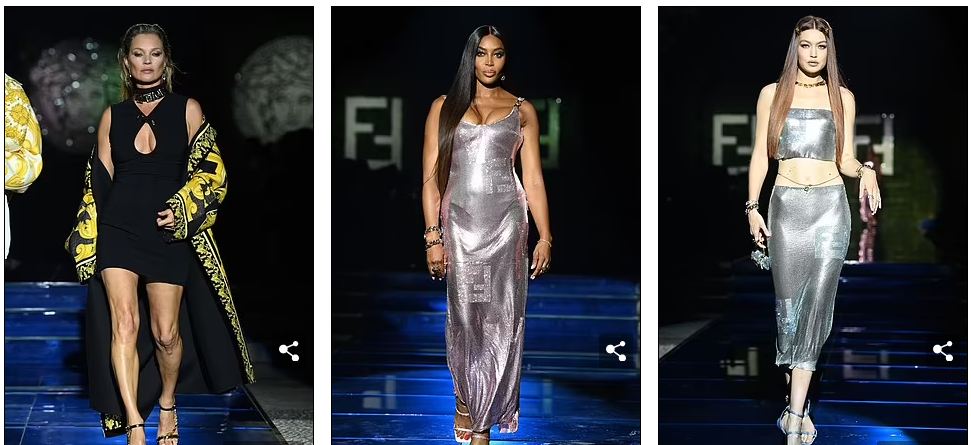 Gigi Hadid, Naomi Campbell and Kate Moss