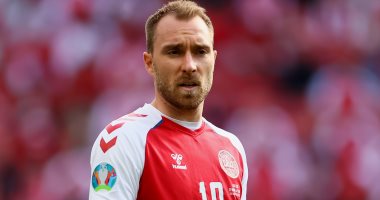 Danish star Christian Eriksen, Inter Milan's playmaker, hopes to return to his team's training next month, after the medical examination he is expected to undergo, 3 months after the cardiac arrest he suffered during the match against Finland, in the group stage of the championship. Euro 2020.
According to the Italian newspaper, La Gazzetta dello Sport, the Danish star Eriksen will undergo a new medical examination next month, to determine whether he can play in the future, three months after he suffered a heart attack.
The newspaper added that the doctors of the Danish team are in constant contact with their counterparts in the Italian club, to follow up on the condition of the player, who may be allowed to train individually before the results of the medical examination appear.
The newspaper pointed out that Eriksen, the 29-year-old, is outside the accounts of Simone Inzaghi, coach of the Nerazzurri team, during the current season, as he was excluded from the team's list in the Champions League.
Simon Kjaer, captain of the Danish national team and the medical staff of his country, won the European Union President Award for the year 2021, during the Awards Ceremony of the Best in Europe for the year 2012, which will be held on the sidelines of the draw ceremony of the group stage for the Champions League 2021/202, which will be held at the Halic Congress Center. In Istanbul, Turkey.
The duo came after star Christian Eriksen was rescued during the European Championship "Euro 2020" during the match against Finland.
After winning the UEFA President's Award, Kjaer said: "As a team we did everything we could to stay together and help others in their work. I thank UEFA for this award on behalf of me and the team."