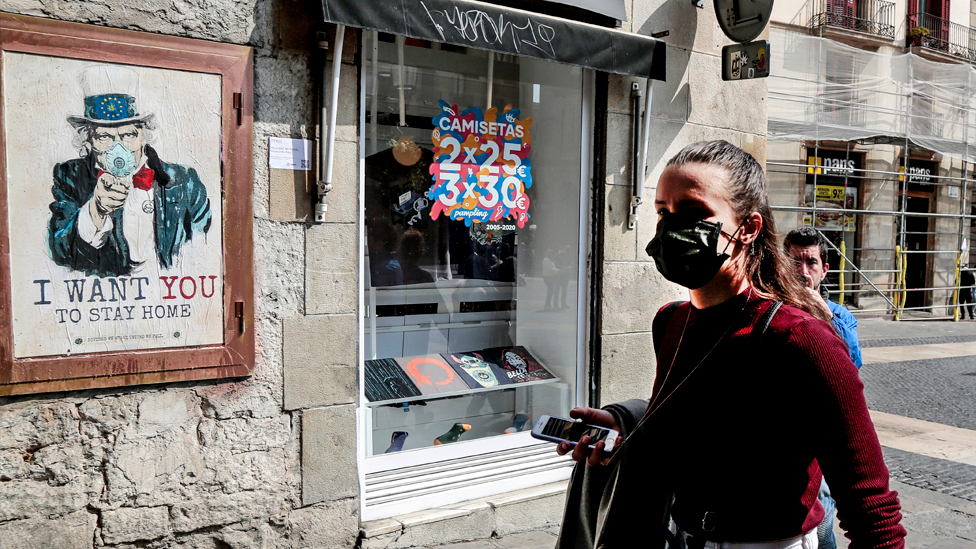 Measures to deal with coronavirus outbreaks are being introduced across Europe.
Many involve the reintroduction of restrictions which had been eased after initial lockdowns.
Spain: Madrid lockdown for one million
A new lockdown in parts of the capital and surrounding neighbourhoods affects about a million people.
People can leave their local area only to go to work, school or for medical care. Social gatherings are limited to six, public parks are shut and businesses have to close by 22:00.
Members of the armed forces and extra police are expected to be deployed to help enforce restrictions.
Face masks have to be worn by anyone over the age of six on all forms of public transport and in many indoor public spaces.
Most regions in Spain have made masks obligatory outdoors as well.
Spanish schools are asking children as young as six to wear masks.
Netherlands: Restrictions in major cities
Dutch authorities are introducing new measures from 29 September, after the number of daily infections surged to the highest level since the start of the pandemic.
Masks will have to be worn in shops in major cities and restaurants and bars have to close by 2200 across the country.
Businesses must log clients' contact details and working from home is encouraged. Social gatherings inside people's homes must not exceed three people. There can be no spectators at sports events.
The measures will stay in place for at least three weeks.
Previous measures, such as wearing masks on public transport, will also continue to apply. Local authorities can implement their own additional measures.
France: 22:00 closing time for restaurants and bars
Bars and restaurants have to close at 22:00 in 11 cities, including Paris. In Marseille, they had to shut completely for 15 days.
Gatherings are limited to 10 people and wedding receptions, students parties and other organised gatherings in hired locations are banned.
Following fresh outbreaks in July, the French government made face coverings compulsory in enclosed public spaces.
Face masks
must be wornoutdoorsin Paris and surrounding areas by anyone aged 11 and over. Hundreds of other municipalities across Francehave the same rule, including Toulouse, Nice, Lille and Lyon.
Germany: Compulsory airport testing
A ban on large gatherings in Germany – such as public festivals, sporting events with spectators and concerts – has been extended to the end of the year. The new Bundesliga football season is taking place behind closed doors.
Testing at airports is compulsory for all travellers arriving from high-risk countries.
A minimum fine of 50 euros (£46) has been introduced for people failing to wear face coverings in shops or on public transport.
Italy: Nightclubs closed
In Italy the authorities ordered the closure of all dance venues and nightclubs.
Face masks must also be worn from 18:00 to 06:00 in all public spaces where social distancing isn't possible.
In schools face masks are obligatory for all children over the age of six when they move around the school building.
Denmark: Bars must close early
Denmark was one of the first countries in Europe to reopen schools in April.
However, in late August the number of cases began rising sharply.
The government has responded by making face masks compulsory on public transport.
In Copenhagen and surrounding areas – which have seen a spike in cases – bars, restaurants and nightclubs must now shut at 22:00.
Private parties, and gatherings such as weddings, must end by the same time and masks must be worn in restaurants, bars and cafes.
Belgium: Football fans return
In the Belgian capital, Brussels, wearing a face mask will no longer be compulsory in all public areas, from 1 October.
However, face coverings will still be "strongly recommended" in places where a distance of 1.5m cannot be guaranteed.
However, other new measures in Brussels were introduced: cafes and bars have to close by 2300 and other business selling food and drink by 2200. Eating at street markets is now forbidden.
Nightclubs remain closed and no major events, such as festivals, are allowed.
Football fans are being allowed to return to stadiums, but only at a fraction of capacity and they must wear masks.
Portugal: Smaller gatherings
As pupils return to school and some workers return to their offices, new restrictions were put in place from 15 September.
These include the closing of commercial establishments by 23:00 and limiting gatherings to a maximum of 10 people.
Greece: New measures in Athens
Masks are now compulsory in all public indoor spaces and on all public transport in Greece.
In September, tighter restrictions came into force in the Attica region, which includes Athens: face masks have to be worn at work and in all crowded outdoor places.
There have also been further local restrictions introduced on some of the Greek islands, and free on-the-spot testing has been offered to people arriving on the mainland from those particular islands.
Republic of Ireland: No indoor dining in Dublin
In the capital Dublin, indoor restaurant dining was banned on 19 September for three weeks and all non-essential travel discouraged, after a surge in recent cases.
Social visits to homes in Ireland, both indoors and outdoors, are limited to six visitors from no more than three households.
Outdoor gatherings are limited to 15 people.
Those aged over 70 are again being asked to stay at home as much as possible, and people are being encouraged to work from home if possible.
There have also been local lockdowns – the one in County Kildare
has been extended
into September.
Sweden: Lockdown measures not imposed
There was no lockdown in Sweden but, in line with government advice, most people respected voluntary social distancing and started working from home where possible.
The country banned gatherings of more than 50 people and urged people over 70 to self-isolate – but shops, bars, restaurant and gyms stayed opened.
The number of new infections is now rising again, but not as sharply as in some other parts of Europe.
Authorities have not ruled out future restrictions, but for now businesses remain open and masks are not recommended.