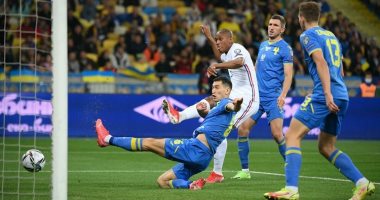 The French national team achieved a negative number that has not happened in its history, after its positive draw with its host Ukraine, 1-1, in the meeting that brought them together on Saturday evening, at the "Olympicky Sports" stadium, in the fifth round of Group D in the European qualifiers for the European Cup. World 2022 in Qatar.
The "Opta" network, which specializes in monitoring statistics, stated that the French national team drew in 5 consecutive matches for the first time in its history.
The national team had tied with its Hungarian counterpart 1-1 in the second round of the Euro 2020 groups, then tied with Portugal in the same tournament 2-2, and also tied with Switzerland 3-3, before losing on penalties in the round of 16, then tied With Bosnia and Herzegovina and Ukraine, 1-1 in the qualifiers for the 2022 World Cup.
France national team

The Ukrainian team excelled with a goal in the first half, scored by Mykola Shabarenko in the 44th minute of the match, from a powerful shot to the left of Hugo Lloris, the French national team goalkeeper.
In the second half, Manchester United striker Anthony Martial scored the equalizer for the Dukes team in the 50th minute, with a powerful shot that the Ukrainian goalkeeper failed to prevent.
The match witnessed the absence of Kylian Mbappe, the Paris Saint-Germain star, from the French national team, who left the team's camp, after suffering a knee injury against Bosnia and Herzegovina last.
The roosters' team had fallen into the trap of a 1-1 draw against Bosnia and Herzegovina during the meeting that brought the two teams together last Wednesday night.
The French team maintained the top spot in Group D with 9 points, while the Ukraine team rose to 5 points in third place, evenly with Finland, the runner-up, with a goal difference.