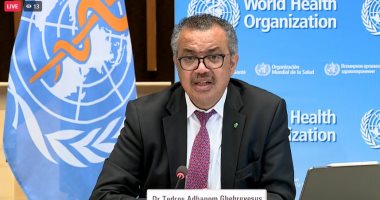 The World Health Organization (WHO) announced on Monday the appointment of football legend Didier Drogba as a Goodwill Ambassador for Sport and Health..
The World Health Organization said in a statement today, Drogba is famous for his football career at Chelsea FC and twice being named African Player of the Year in 2006 and 2009, and has a proven track record of participating in various health campaigns such as healthy lifestyles, malaria control and HIV prevention. Human immunity "AIDS" and its control.
"I am honored to join the WHO team and support its work to help people achieve the highest possible level of health, especially young people from all countries," Drogba said during a ceremony organized at WHO headquarters in Geneva to mark his appointment as ambassador. "I have personally experienced the huge benefits of sport for living a healthy life and I am committed to working with the organization to make these gains known to the world.".
Dr Tedros Adhanom Ghebreyesus, WHO Director-General, praised Drogba as a football legend and also for his commitment to advocating for the health and sustainable development of local communities, adding that his support for WHO can help curb the growing burden of noncommunicable diseases by promoting healthy lifestyles, including Including the benefits of physical activity and sports for all individuals.
Dr Tedros added: "Didier is a hero who has proven his worth and changed the course of play on and off the field," stressing: "We are pleased to have him on our team, and to see him help communities around the world achieve and score goals through sport for the benefit of physical and mental health and well-being, and will also support community mobilization. The International Conference on Advancing Sport as an Essential Way to Improve the Physical and Mental Health and Social Well-Being of All Individuals, Including by Assisting in COVID-19 Recovery Efforts.
The organization said, "Current global estimates show that 4 out of 5 adolescents, and 1 in 4 adults, do not exercise enough physical activity, and increased physical inactivity negatively affects health systems, the environment, economic development, community well-being and quality of life, and maintaining physical activity helps, lowers blood pressure, and reduces the risk of developing high blood pressure, coronary heart disease, stroke, diabetes, and various types of cancer (including breast and colon cancer).
The organization indicated that Durgba joins the list of ambassadors of the organization that also includes Brazilian football hero Alison Becker, Michael Bloomberg, founder of the Bloomberg Foundation and Mayor of New York City for three successive states, Cynthia Germanotta, president of a charity, Gordon Brown, and the former Prime Minister of the United Kingdom..