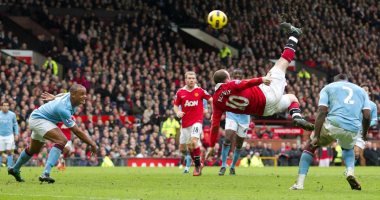 You may forget a match and you cannot remember its events, and you may forget players with their eyes and do not remember their names when one of your friends reminds you of them, but it is difficult to forget the wonderful goals scored by the stars of the round witch, whose names are immortalized in the football records, and have remained to this day stuck in Everyone's mind.
"Goal Morning" is a daily report in which we will present to you every morning a collection of the most beautiful football goals scored by the game's top stars..
Former Manchester United striker Wayne Rooney scored a historic goal against Manchester City during the "Manchester Derby" during the 2011/2012 season, which ended in favor of the Red Devils with two goals against a goal..
Wayne Rooney believes that the most beautiful goal he scored in his life was against Manchester City at Old Trafford in Derby on February 12, 2011, which ended with United's 2-1 victory, which brought the Red Devils close to winning the title in their favor against City and Chelsea.
The result was 1/1, Nani scored first in the 41st minute, and Silva adjusted the score in the 65th minute, and 12 minutes before the end, Nani decided to send a cross into the area towards Wayne Rooney, who escaped from Mica Richards and Zabaleta to turn the ball with a bold acrobatic movement that lit the stands, to dig this The goal is in the memory of history.