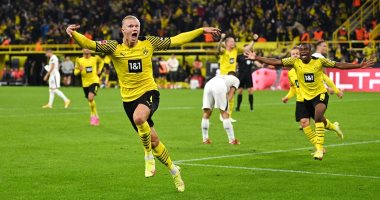 The Norwegian star, Erling Haaland, striker for Borussia Dortmund, was crowned the best player in the German League last August, after the impressive levels that the player presented at the beginning of the new season of the Bundesliga 2021-2022.
And the official account of the German League, via the social networking site "Twitter", announced that Haaland won the title of best player last August, after he succeeded in scoring 3 goals and making like them during 3 matches he played last August in the Bundesliga, during the confrontations with Eintracht Frankfurt and Hoffenheim.
The 21-year-old is the top scorer in the German league this season, with 5 goals, behind Polish star Robert Lewandowski, Bayern Munich striker, who leads with 6 goals.
Halland scored 9 goals this season with the Westphalian Lions in 7 matches in various competitions, 5 goals in the Bundesliga, 1 in the European Champions League and 3 goals in the German Cup, in addition to his industry of 4 goals.
The Norwegian star led Borussia Dortmund to a 2-1 victory over its Turkish host, Besiktas, in the first round of the group stage in the Champions League, scoring his team's second goal.
Dortmund is third in the German league standings with 9 points, 3 points behind Wolfsburg, the leader with 12 points, after 4 rounds.