Mustafa Mohamed, the Zamalek striker, loaned to Galatasaray, was subjected to a violent attack by the Turkish sports newspapers, after his team suffered a heavy loss yesterday 3-0 against its host Kayserispor in the match that brought them together on Wednesday evening at "Kayseri Ataturk" Stadium in the sixth round of competitions. The age of the Turkish Super League Championship for the current season 2021 / 2022.
And it came to the possibility of Mustafa Mohamed leaving the club in January due to his noticeable decline this season, as Turkish newspapers unanimously agreed on the dwindling chances of his continuation, and "Koronos" newspaper said: "Mustafa Mohamed, who joined the team last season, did not score any goal in the league And Europe this season after 12 games.
"Mustafa Mohamed is disappointing," Sporks said. She pointed out that the player's level has declined this season and has not scored any goals so far in the new season after a fiery start last season and his signing of 6 goals in the first 6 matches with the team after coming from Zamalek.
SportX criticizes Mustafa Muhammad's performance with Galatasaray
"Spor Haber" commented on the performance of the Egyptian international, saying: "The disappointment continues, Mustafa Mohamed does not score in his 12th match this season with Galatasaray, despite scoring 8 goals in 16 matches last season."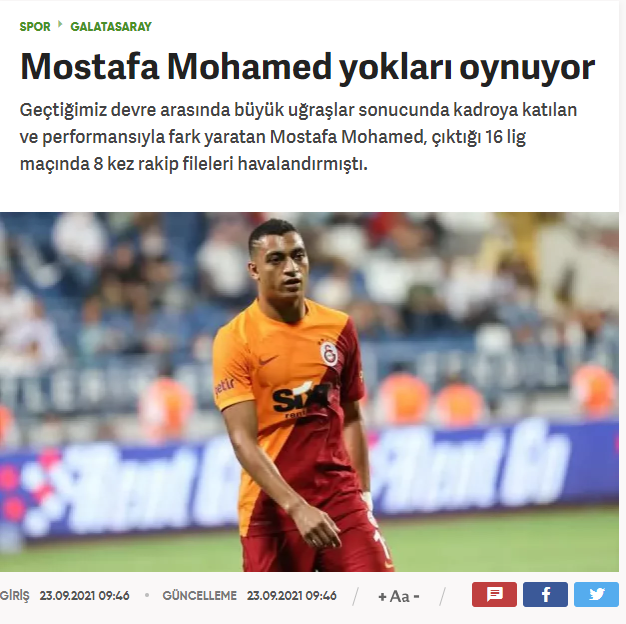 Spor Haber criticizes Mustafa Muhammad's performance with Galata Saray
As for "Kronos", she said: "The archer throws empty arrows, and he failed to score for the 12th match this season with the team at the local and European levels, and suffers from the absence of scoring for more than 4 months when he scored two goals in the Denizli match outside his stadium on May 11, 2021. "
Cronos criticizes Mustafa Muhammad's performance with Galata Saray
newspaper said "fanatik" Mustafa Mohamed continued his absence from scoring for the 12th match in a row with his team in various Turkish and European competitions, which makes it very difficult for him to continue with the team..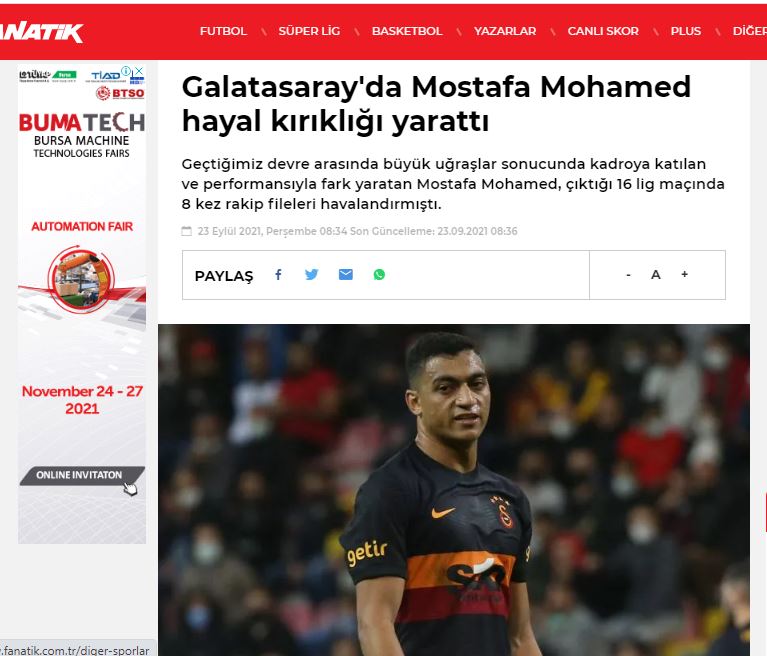 fanatic
And the newspaper added, that Mostafa Mohamed participated with 12 games so far in the new season, without scoring any goal, and he has not scored any goal with the team since last May, and that activating the purchase of the player's contract from Zamalek club became difficult, after the player disappointed. The club and its fans".
And the newspaper added, that this rate seems very difficult for the Galatasaray administration to obtain the services of Mustafa Mohamed from the Zamalek club, which was loaned for a season and a half. Zamalek received 2 million dollars with the option to buy 4 million dollars.
After yesterday's loss, Galatasaray's ranking fell to eleventh place in the Turkish League with 8 points, collected from winning two games, a draw and a loss in the same, scoring 8 goals and receiving 9 so far..