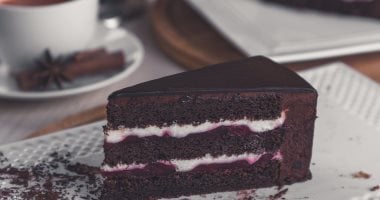 Chocolate is one of the favorite foods of many children and adults, and many of us seek to make chocolate cake, but it is financially expensive, so many mothers resort to replacing it with other types..
Sauce Ingredients:
sugar cup
Half a cup of vegetable oil
Half a teaspoon of vanilla
Five tablespoons of cocoa
And we beat them in the blender.. and keep them in the refrigerator until the cake is prepared
Cake Ingredients:
A cup and a quarter of flour
2 eggs
Half a cup of milk
cup of sugar
Half a cup of oil
small spoonful of vanilla
1 tablespoon baking powder
big spoon
2 tablespoons cocoa
How to prepare:
We beat all the ingredients in the mixer except the flour, and we prepare a bowl and put the ingredients that were hit in the mixer in it.
Then we add a cup and a quarter of flour, stir well, then put the mixture in an oiled tray and put it in the oven for about an hour and a quarter.
And when it comes out of the oven, we add the previously prepared chocolate sauce, provided that the cake is hot, cut it and serve it.