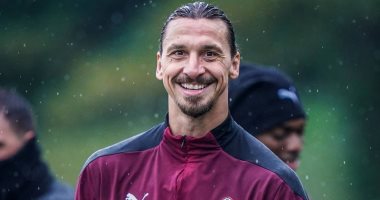 Swedish star Zlatan Ibrahimovic, AC Milan striker, confirmed that the Ballon d'Or is what I miss, not the other way around, in an interview he had with the famous French magazine "France Football".
When asked if he missed the Ballon d'Or, Ibrahimovic said: "No, the opposite is true. He misses me."
On the comparison with the two stars, Naldo and Messi, the Swedish star said: "If we talk about the essential qualities, I have nothing less than them.
The Milan star added, "When you do good things collectively, the individual is that the individual cannot be good if the group is not good, and I think I am the best in the world."
In another context, the Italian newspaper "La Gazzetta dello Sport" reported that there is a state of happiness in Milan due to the restoration of the veteran leader again in light of the return to the Champions League scheduled for Wednesday against Liverpool, as Ibra returned to training in the group for more than a week until Now he has shown coach Pioli that he is fine and that he is eager to play.
And the Italian newspaper confirmed that, after making sure that the knee problem is now just a bad memory, between today and tomorrow the striker and the Rossoneri coach will decide whether the Swede will participate from the first minute or if he will do so during the match, and the only certainty at the moment, is that Zlatan He will play at least for a while, maybe even an hour.
The Lazio match will be the best preparation for the Swedish star for the Liverpool match in the Champions League, through which he aims to reach the 50th goal in the major European championship.