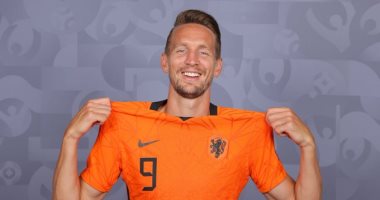 Dutch striker Luke de Jong boosted Barcelona's attack under compatriot Ronald Koeman, after a few hours of frenzy at the end of the market, as the Dutchman became a new player in Barca after the Catalan club reached an agreement with Sevilla over the player's transfer and the striker will join forces again with Ronald Koeman, who already managed in the Netherlands national team.
After two seasons in Seville, De Jong has arrived at Barcelona and will want to show that his joining the Camp Nou has been a success and will seek to restore the scoring records he had in the Eredivisie..
De Jong began his professional career in De Graafschap, scoring 3 goals in 19 matches, then jumping to Twente, where the striker played a secondary role in the surprise league title for the 2009-2010 season, scoring two goals in 12 matches in the Dutch league and 7 goals in 20 matches In general, but later became one of the leaders of the team.
In the following two seasons, de Jong scored 52 goals in 100 matches for Twente, numbers that earned him a signature for Borussia Moenchengladbach..
In his first season in Germany, 2012/13, De Young had good numbers – 6 goals in 26 games – but then his contribution to the team waned and in January 2013 he was loaned to Newcastle, but in the Premier League he did not adapt and left without scoring a goal In 12 matches he played.
He returned to the Netherlands with PSV in the 2014/15 season, this decision was successful and de Jong once again showed his strength in scoring. 26 goals in 45 games in his first season and 32 goals in 44 games in his second season made him a nightmare for defenses.
In his third year 9 goals in 39 games but in the next two seasons he got good numbers again – 13 goals in 33 games in 17/18 and 32 goals in 43 games in 18/19.
De Jong finished his time in Eindhoven with 112 goals in 204 matches.
His good performances caught the attention of Sevilla, who signed him in the summer of 2019 for 12.5 million euros, but De Jong did not finish exploiting his best version, adding 19 goals in 94 games in the two seasons he played in La Liga, and he also played a key role in the La Liga final. Euro 2020 with a double to give Sevilla the win and get the title of best player.
De Jong, at the age of 31, seeks to improve his scoring numbers in Barcelona and restore the confidence that Ronald Koeman and the club have placed in him to cover the departure of Antoine Griezmann..
Van Luc de Jong plays regularly in the Netherlands national team in recent years and has 8 goals in 38 matches for his country, and in this break he was not called up for not playing with Sevilla recently..