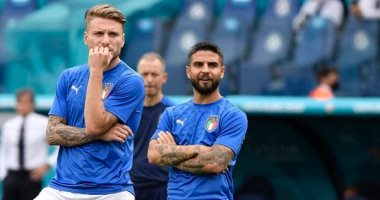 The Italian team will miss the services of Lazio striker Ciro Immobile and Napoli star Lorenz Insigne, during its visit to Lithuania, scheduled for 9:15 pm on Wednesday, in the sixth round of the third group of European qualifiers for the 2022 World Cup in Qatar.
And the Italian national team's official account on the social networking site "Twitter" announced that the duo Ciro Immobile and Lorenzo Insigne had left the team's camp, as the first suffered a muscle injury, while the second obtained permission for personal reasons.
The departure of the duo comes so that Mancini, the coach of the Azzurri, will face a problem in the match tomorrow, especially after the departure of the duo Marco Verratti of Paris Saint-Germain and Lorenzo Pellegrini of Roma on Monday due to injury.
Italy is at the top of the standings of Group C in the World Cup qualifiers with 11 points from 5 matches, ahead of Switzerland, who is in the group runners-up with 7 points, while Lithuania is at the bottom of the standings without any points after losing in the four confrontations it has fought so far.
The Italian team, led by coach Roberto Mancini, is seeking to regain the tone of victories again, after a goalless draw against Switzerland, in the confrontation that took place on Sunday evening at St. Jacob's Park, as part of the fifth round of Group C matches. The Italian national team also fell in the last round before the last match, in a draw against its guest, Bulgaria, with a goal each.