Ivanka Trump, the eldest daughter of Donald Trump, and his advisor in the White House, congratulated the US President and his administration after receiving the first person vaccination against the Corona virus in the United States of America, noting that the epidemic will be defeated in the near future.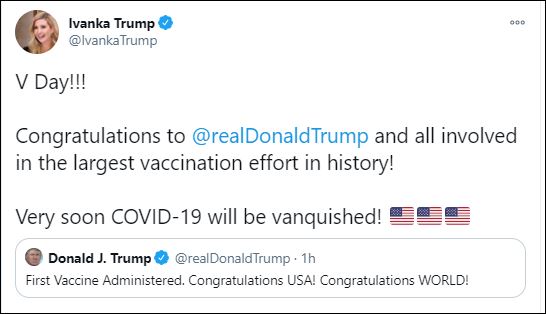 Ivanka Trump on Twitter
Ivanka Trump wrote on Twitter: "Congratulations to President Donald Trump and everyone who will participate in the largest vaccination effort in history very soon … Corona virus will be defeated." COVID-19".

Trump via Twitter
And US President Donald Trump announced the start of vaccination operations with the vaccine in the United States of America, where he congratulated his citizens in the United States and the world, as Donald Trump wrote, a short while ago on Twitter: "Giving the first vaccine dose .. Congratulations to America .. Congratulations to the world."
It is noteworthy that the largest vaccination campaign in the history of the United States began today, Monday, from the Corona virus, after the number of deaths reached more than 300 thousand.
Critical cases nurse Sandra Lindsay was the first American woman to receive the first dose of the Corona vaccine at Long Island Medical Center in New York, and she said upon receiving the vaccine: "I feel hopeful today."
The report stated: "The frozen vaccine shipments produced by Pfizer and its German partner Beauentech began to reach hospitals across the United States on Monday, according to a TV station website. KGO-TV Network-run and owned ABC American ".
"This is the light at the end of the tunnel, but it is a long tunnel," New York Governor Andrew Cuomo said after Lindsay was vaccinated via video. Many other countries have introduced the vaccine, including the United Kingdom, which began vaccination last week.