By Giancarlo Rinaldi
South Scotland reporter, BBC Scotland news website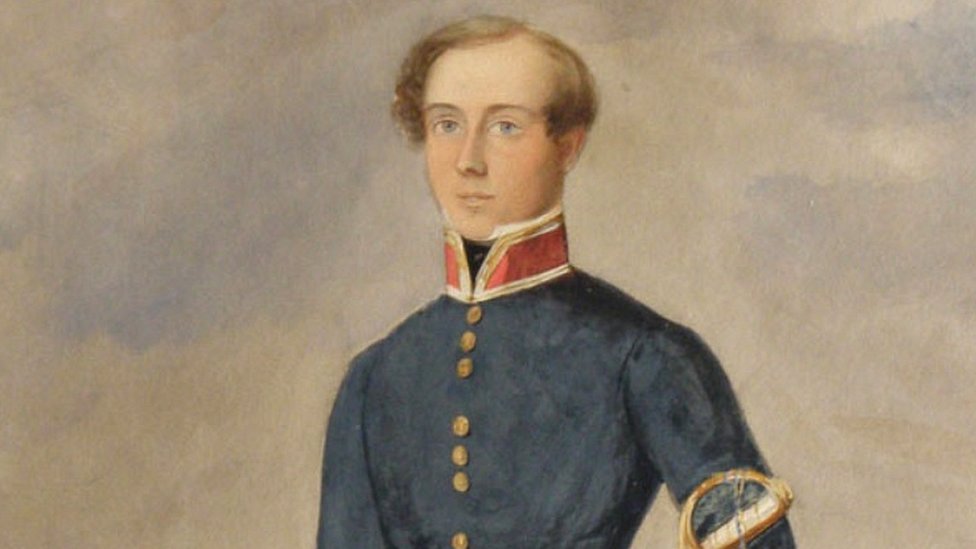 Few people have met with triumph and disaster in more quick succession than Dr John Sinclair.
He was picked as the winner in a prize draw one day – and died in a "mournful accident" the next.
He is honoured by a memorial in his native Dumfries, which also contains the statues he won.
The site – which stands outside the town's museum – is now set for a clean-up so it can continue to tell his story to generations to come.
Who was he?
John Sinclair was born in Dumfries in April 1814 and went on to become an assistant surgeon with the Royal Navy.
He was described as a "youth beloved by all, of high promise and superior talents".
He moved away from Dumfries to pursue his medical career and ended up based at HMS Excellent in Portsmouth.
However, he maintained links with his home town and entered a local six penny lottery for two statues carved by artist John Currie – of Lochfoot, near Dumfries.
On 25 October 1840 he was picked as the winner.
"Whatever be the destiny of the interesting memorials, we are glad they have fallen to the lot of a townsman so deserving," reported the Dumfries Times.
What had he won?
The statues put up for lottery were sandstone figures of Old Mortality and his pony.
The subject of the sculpture was Robert Paterson, born near Hawick, who became a stonemason and worked across southern Scotland in the 18th Century building up a "thriving business" in sandstone gravestones.
However, he would become more widely known due to his dedication to cleaning and recutting the tombstones of Covenanters across southern Scotland.
His story was used by Walter Scott in his novel Old Mortality, securing his fame for years to come.
What happened to Dr Sinclair?
There are conflicting reports of when the accident which claimed Dr Sinclair's life occurred but he appears to have died the day after his lottery win.
He was out for a meal with a group of friends and was returning home in a horse-drawn gig when it collided with another vehicle.
The driver was "little or nothing hurt" but the young Scot "received such a severe concussion that he died a few hours after the accident happened".
"Dr Sinclair was a young man of excellent promise, and by his relatives and friends, and all who knew him, his loss must be long and deeply and sincerely mourned," said the Dumfries Times.
"He bade fair to prove an honour to Dumfries, the place of his nativity; and we do not recollect the sudden death of any young man which has been so generally lamented."
He is thought to have been unaware of his lottery win but had told his family he wanted to present the statues to Dumfries Observatory which had been founded a few years earlier.
He was buried in Portsmouth but his relatives saw to it that his wishes were honoured and the figures still stand outside Dumfries Museum.
What is happening now?
Plans have been approved to carry out a clean-up of the memorial which enjoys commanding views over Dumfries.
The Sinclair Memorial – the octagonal Tuscan temple containing the statues – dates back to 1841 and is a category B listed building.
A condition survey has found issues with the glass screens around it and "biological growth" on external stonework.
Listed building consent has been given to clean and repaint it.
Lighting and alarm systems will also be replaced but no work will be carried out to the figures inside although they will be protected during the repairs.
It should all then provide a more fitting tribute to the lottery winner killed in an accident nearly 180 years ago.