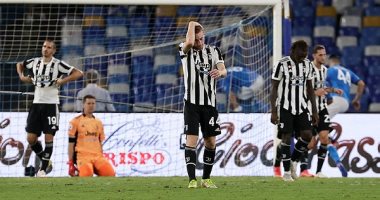 Juventus scored the worst start in the season in the last 50 years, after conceding goals in the last 18 games and reducing its attacking star, to achieve only two points from four rounds and is in the relegation zone of the Italian Premier League.
The 1-1 draw against Milan on Sunday again revealed the limited capabilities of the old lady's club led by Massimiliano Allegri, who drew 2-2 with Udinese in Serie A this season, after losing 2-0 to the newly promoted Empoli and Napoli 0-1. 1-2.
The club, which lost the Scudetto title last season after dominating it for nine consecutive years, scored the worst consecutive series of matches in which it was conceded in Europe, and lost seven points after taking the lead, and the average goal for its front line is one goal per game in the Italian league.
Juve scored four goals this season, two of them for Alvaro Morata, one for Argentine Paulo Dybala and another for Colombian Juan Cuadrado, and received six goals.
And all the players of the Italian team equaled with this number the number of goals scored by its former star Cristiano Ronaldo in his first three matches with Manchester United, which he moved to last summer from the old lady's team.
While the Portuguese glows, scores and enjoys at Punaated, Juve are going through a difficult period after nine years of dominance in Italy.
Allegri, who returned to the club after leaving him two years ago, to succeed Maurizio Sarri and Andrea Pirlo, against the background of poor results, tried to find the appropriate tactical plan to restore balance to the team, but he has not yet reached the desired results.
Allegri did not repeat any starting lineup in the four matches he played and changed his plans from 4-3-3 to 4-4-2. The midfield area is the biggest problem, as it has not found a balance since the departure of Bosnian Miralem Pjanic in 2020 to Barcelona.
Pjanic, who was a key component of Allegri's squad, was replaced by Brazilian Arthur Melo, who has not yet been able to adapt to the new club, as well as due to a long series of physical problems that accompanied his injury.
And the burden now falls on Dybala, Morata, Cuadrado and Federico Chiesa, to play the title role to pull Juve out of its current crisis.
And Juve achieved their only victory so far in the Champions League, and it was a decisive 3-0 away against Malmo, Sweden. Dybala, Morata and Alex Sandro scored the hat-trick.
But he has a vital task now to get out of the relegation zone and reach the lead that Milan share with Inter, and he is eight points away from them.
And Juve will visit Spezia next round, excited by beating Venezia in the last round.