The English Premier League announced the five candidates from the coaches to compete for the title of best coach in the tournament for the month of September of the English Premier League competitions for the current season.
Liverpool leads the English Premier League table with 14 points under the leadership of Jurgen Klopp, while Manchester City comes in second with 13 points under the management of Pep Guardiola..
And the English Premier League published, through its official account on the social networking site "Twitter", a tweet in which it revealed the five candidates, who are::
Pep Guardiola (Manchester City), 2- Jurgen Klopp (Liverpool), Michael Arteta (Arsenal), Graham Potter (Brighton), and Dean Smith (Aston Villa).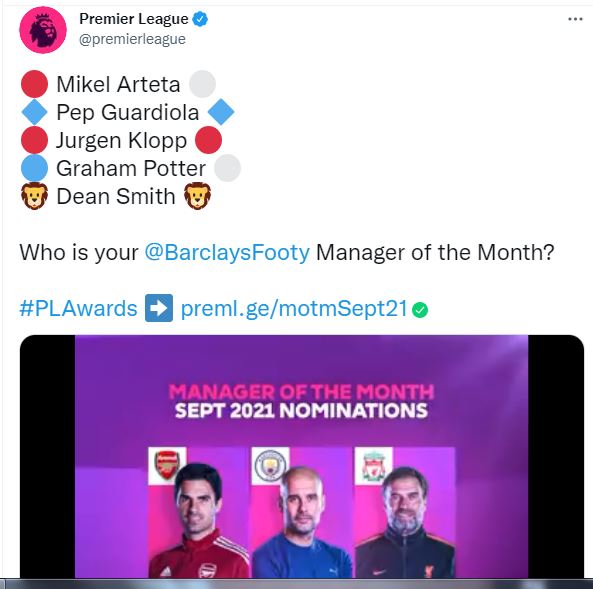 The sixth round of the English Premier League competition, "Premier League" for the current season 2021-2022, ended last Monday evening, with a positive tie between Crystal Palace and its counterpart Brighton, with a goal each.
Brighton missed the opportunity to take the top spot in the English Premier League this round, but managed to snatch a deadly draw with Crystal Palace, as they tied with Crystal Palace with a goal for each team in the match that was held at the latter's stadium in the sixth round of the English Premier League..
Liverpool, a professional in its ranks, leads the Egyptian star Mohamed Salah in the English Premier League standings, with 14 points, after its exciting draw with its host Brentford team 3-3, taking advantage of the fall of Chelsea and Manchester United, losing against Manchester City and Aston Villa, 1-0..
Liverpool is one point ahead of 5 clubs equal in the same balance of points by 13 points, but they differ only in the goal difference between them.
Manchester City came in second place with 13 points, after their valuable victory over its host Chelsea, which is third with the same number of points, but City outperforms the goal difference..