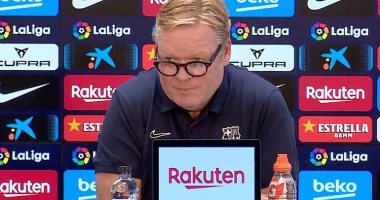 The Dutch coach, Ronald Koeman, praised the performance of his players, despite the negative draw with Cadiz, stressing that his team missed the final touch against the opponent's goal, in the match that brought them together Thursday evening, at the Ramon de Carranza stadium, at the end of the sixth round of the Spanish League. .
Koeman spoke after the end of the match, saying: "The team was good, we controlled the ball a lot, I can't blame the players, they were good, and we missed the final touch in tonight's match."
He added, "We could have won if we had managed to score the chances we got, especially in the last minutes of the match, which was difficult against an opponent who closed a lot of spaces."
The Barca coach attacked the referee, saying: "De Jong's expulsion made the match more difficult, in this country they expel you for nothing. I told the referee that there was another ball on the field and he expelled me, it was not nervousness the reason."
On his future with the team, the Dutchman said: "The coach's future will not be the result of a match. The team's work and the level and performance it shows must be highlighted. We need to win in order to return the passion."
Cadiz vs Barcelona
The first half of the match came at a poor level on the part of the two teams, which did not witness any chance on the goal by the two teams, and the control of the ball was from Barcelona, ​​​​without a danger to the Kadesh goal.
The result remained the same in the second half, which saw the expulsion of the Catalan midfielder, Dutchman Frenkie de Jong in the 65th minute, after receiving a second yellow card.
Barcelona raised its score to the ninth point in seventh place, while Kadesh's balance rose to the sixth point in the fourteenth place, and Real Madrid leads with 16 points, after its big victory over Real Mallorca 6-1 yesterday, Wednesday.
Barcelona stumbled against Granada in the last round of La Liga, where they tied 1-1 amid fierce criticism from the Blaugrana fans, objecting to the technical level of the Catalan team, and the continuation of Dutch coach Ronald Koeman.
The Catalan team was absent from tonight's match, Jordi Alba, Pedri, Braithwaite, Ansu Fati, Dembele, and Aguero, due to injury.