The star, Kylian Mbappe, the top scorer of the French team Paris Saint-Germain, decided to reward himself with new shoes with gold-plated designs, after his negotiations with Real Madrid failed at the last moments, as he posted, through his personal account on the Instagram website, a video clip, in which he received the new shoe and reviewed it with his fans.
And the French star appeared in the video that he published a while ago from inside the players' dressing room, wearing the French national team shirt and not wearing the shirt of his club, Paris Saint-Germain, to raise an uproar among his fans by the possibility of his transfer to a new team after he rejected a new offer yesterday from the management of his club to renew his contract for two additional seasons.
According to the French newspaper, "Le Parisien", Paris Saint-Germain made a serious offer to Kylian Mbappe for 45 million euros per season as an annual salary.
The newspaper added that the French player refused the offer again and stuck to the Real Madrid team during the current transfer period or to leave for free at the end of the sewage season.
This comes at a time when Real Madrid made a final offer of 220 million euros to join the player before the closing of the current summer transfer window.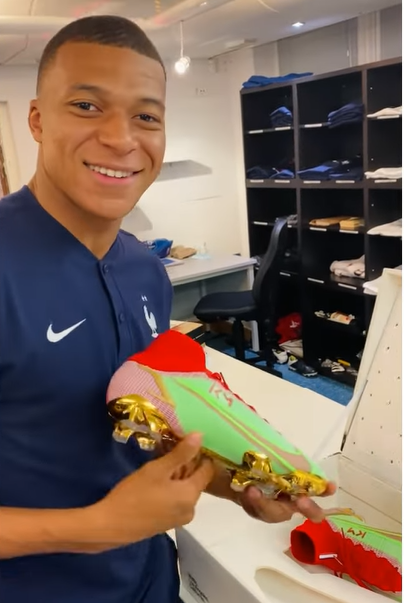 Mbappe receives his new shoes
Mbappe receives his new shoes
And the English "Sky Sports" network had revealed a big surprise that Real Madrid was attending to its fans in the last hours, which was the payment of 220 million euros to sign the young Paris Saint-Germain star Kylian Mbappe.
Real Madrid had made an offer worth 180 million euros to sign the young player, but Paris Saint-Germain refused the offer, and the royal team decided to stop the negotiations.