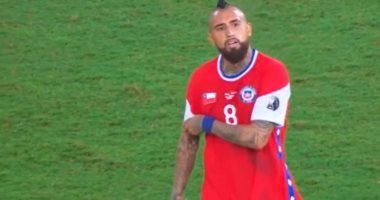 Uruguayan coach Martin Lasarte said today, Wednesday, that he does not rule out the use of veteran midfielder Arturo Vidal as an outspoken striker during the match against Colombia at dawn on Friday in the South American qualifiers for the 2022 World Cup in Qatar, due to the suffering of "La Roja" in the absence of attackers at the present time.
Lasarte said during the press conference on the eve of the match in the 10th round, "Arturo played in some periods in Barcelona as a fake striker, and he played this role in many matches. He is Chile's top scorer, and he is a multi-talented player, and he can play in different positions that may seem strange to us, but He has the capabilities and talent to help him do that."
Lasarte faces difficult circumstances in the absence of 3 of his most prominent players, especially in the front line, and they are Eduardo Vargas, who is suspended, and Alexis Sanchez, who is injured, in addition to Benjamin Brereton, who is not allowed to travel from England.
In this regard, he said, "We will look for alternatives. We have some players who can do the same tasks, but we can think of another idea, putting a player who plays as a fake striker or an outright striker."
Regarding the difficult position of the continental champion twice in a row (2015 and 2016) in the qualifying table, he is eighth with seven points, he explained, "We need the three points that will give us the kiss of life and bring us back to the race. We are optimistic. Achieving a positive result will give us the confidence we lack, especially in front of the opponents' goal."
"We played a big game against Brazil, and we didn't win. We weren't good against Ecuador, and we got a point."
Lasarte also talked about his Colombian colleague Reinaldo Rueda, the coach of Colombia, who knows the "La Roja" team well because he trained for him during the first half of the qualifiers before he took over the task of "Los Cafeteros".
"Of course, my colleague has a reference, and he can use it in the match," he said.