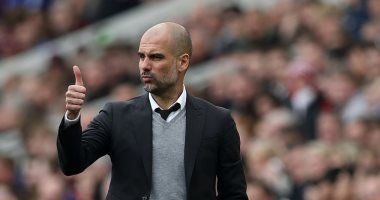 Manchester City coach Pep Guardiola expressed his happiness with his players' performance in their 1-0 win over Leicester City, during the match that brought the two teams together this evening, Saturday, at King Power Stadium, in the fourth round of the English Premier League.
Guardiola said in statements after the match: "We appeared at a high level for the third round in a row, we had many chances, and we could have scored more goals, it is a step we still have to take."
Guardiola continued, "A great victory, we played well from the first minute, after the international break you usually have some doubts, it is difficult to control Leicester City, but we did it."
The Spanish coach continued, "The goalkeeper was the best player in Leicester, because we did a lot and a lot of good things. Against Leicester you have to be patient, they are very dangerous when they attack."
Leicester City vs Man City

He continued, "If you are able to score or shoot with such a large number, it means that you are doing a very good job. Kasper Schmeichel is an incredible goalkeeper, and he has saved a number of goals."
And he added: "The last 11 goals have been scored by 9 different players. It's the only way for us to maintain our high level, of course I'm happy with the three points, our performance was great, Leicester, and as in the past years, they always fought until the end, I'm very pleased."
And about Portuguese Bernardo Silva, Guardiola said: "Bernardo is back at the best level and in the best mentality. He is an exceptional player and we know that."
With this victory, Manchester City reaches second place with 9 points, temporarily behind rivals Manchester United, who leads with 10 points, while Leicester City comes in ninth place with 6 points.