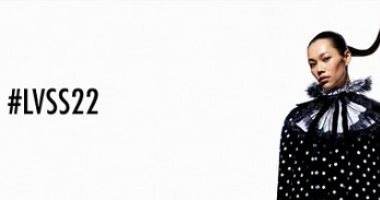 The French fashion house Louis Vuitton recently presented a live broadcast, in which it presented a fashion show for the Spring/Summer 2022 collection of women's clothing in Shanghai. The fashion was noticeably noticeable, as they wore a skirt that had what looked like a "side gibbon".
Nicolas Ghesquière presents his Louis Vuitton Spring-Summer 2022 Collection from Shanghai. https://t.co/fpJ5psh4rS

— Louis Vuitton (@LouisVuitton) November 17, 2021
Famous fashion designer Nicolas Ghesquière presented the Louis Vuitton collection Louis Vuitton For Spring-Summer 2022 from Shanghai, during which many looks based on trousers and dresses containing the elegant "cap" appeared, and some of them wore a mask over their eyes during the show, to appear as if they were in a masquerade party.
The black and white color dominated many of the designs of the famous French fashion house, and the spotted fashion, or the so-called "polka dot", seemed to be made of soft chiffon, as well as fashions of leather, pump jackets, and blazers.
And the fashion show was not limited to clothes only, as the models carried distinctive bags, varying in sizes between large, small, and medium-sized, so that the fashion house announced that the fashion for spring-summer 2022 bags as well, and not only fashion.
She drew the hall in which a group fashion show is held Louis Vuitton For the spring and summer of 2022, noticeable attention is paid to it, as it was decorated with a large number of elegant "Najafs", of golden and white color, while the models walked below and next to these decorations, and the audience sat watching the show with remarkable interest.
It is noteworthy that the famous French fashion house has published on its official website, and its personal pages on the social networking sites Facebook and Twitter, a live broadcast of the show, which ended a few minutes ago.