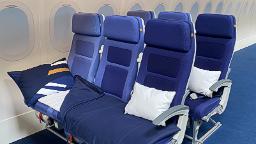 (CNN) — With social distancing at forefront of everyone's minds, having your own space on an airplane has never been so important.
But would you pay extra to spread out over a row of economy seats?
The idea is passengers traveling in Economy can nab a row of three to four seats, and then stretch out across them, replicating the experience of a lie-flat business class bed. Travelers will be given a blanket, pillow and seat topper to maximize the comfort, and also offered priority boarding.
Those interested must purchase the upgrade at the airport, either during check-in or at the gate, for $260 on top of the price of their original ticket.
Innovative Economy seat designs
O'Neill told CNN Travel in June that he reckoned the increased privacy the seat offered would be appealing to travelers in the wake of coronavirus, even though Zephyr Seat is just in its design stages at the moment.