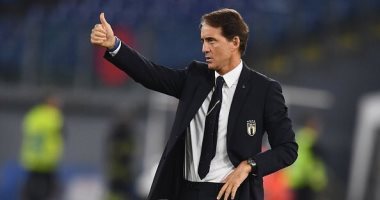 Roberto Mancini, coach of the Italian national team, confirmed that there is no problem in the attack of the Italian national team and there is no concern due to the fast of top scorer Shiro Immobile, before the team's match against Lithuania in the sixth round of World Cup qualifiers.
"I don't worry too much about the latest performances," Mancini said in a pre-match press conference. "Psychologically, the boys should feel comfortable, they won the European Championship and they have to play calmly."
He added: "Unfortunately, the ball doesn't get in sometimes, and we in Italy go looking for the culprit in everything, but we have to isolate ourselves a little bit from this and do certain things a little bit better and the team has to keep doing what it is doing, the goals will arrive." .
He continued: "If we win tomorrow, we will get the points back. Having said that, we may also need the goal difference if we draw the points. We have three games. If we win all of them, we qualify. Tomorrow's match will not be easy. They are a physical aspect and they will stand behind." That, it will be up to us to open it up and manage it in the best possible way."
He continued: "We gathered and won the European Championship, we are calm, we feel sorry for losing four points, but a little luck helped us during the European Championship and now we lack a little, we have to win the next three matches."
Italy is at the top of the standings of Group C in the World Cup qualifiers with 11 points from 5 matches, ahead of Switzerland, which comes in the group runners-up with 7 points, while Lithuania is at the bottom of the standings without any points after losing in the four confrontations it has fought so far..
The Italian team, led by coach Roberto Mancini, is seeking to regain the tone of victories again, after a goalless draw against Switzerland, in the confrontation that took place on Sunday evening at St. Jacob's Park, as part of the fifth round of Group C matches..
The Italian national team also fell in the last round before the last match, in a draw against its guest, Bulgaria, with a goal each.