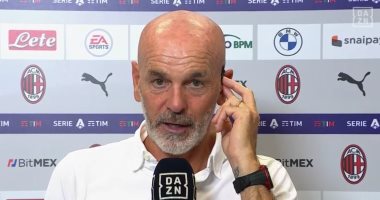 AC Milan coach Stefano Pioli confirmed the absence of the Swedish strikers, Zlatan Ibrahimovic and French Giroud, from facing his Juventus counterpart tomorrow in the Italian League..
Pioli said during the match press conference: "I do not pay attention to Raiola's statements, the agent is doing his job and I, as a coach, am happy with my coaching Romagnoli. I agree with Raiola by saying that Alessio is an excellent defender, currently his focus is on matches.".
And about Ibrahimovic, he said: "Ibra and Giroud will not be present against Juve, Ibra wants to be Superman, his fitness as before, but he will not be against Juve, Giroud will not be called as well because he suffered from lower back pain after the Liverpool match.".
The Milan coach added: "The understanding of Liao Theo must improve? I don't think there is a flaw, all that is, Liao's characteristics are different from Rebic, the Juve match is important for both teams, direct cohesion between two clubs that aspire to be in the top four."
Pioli added: "A very important match, as well as our confrontation with Venezia and Spezia. We play every match with the same determination. I expect Juve to attack us, but we are prepared for every circumstance.".
And the Milan coach continued: "Tomori and Diaz? We are talking about players with high qualifications and a desire to develop. It is a criterion I look for in all my players. It is not easy for an English and Spanish player to adapt in a new tournament and they succeeded because they have talent and seriousness.".
And Pioli continued: "Bakayoko? I am proud to be in a club that fights all forms of racism. Against Liverpool, we were very dangerous on the left front and created good chances to score. Leao must continue to grow as the season began.".
The Milan coach explained: "I expect Milan to be better against Juve and more cautious. It's another high-level match. I still believe in Juve's chance of achieving the Scudetto."
And Pioli added: "Pellegri can and is available, his first participation may be against Juve, his characteristics and general orientation are good, with many matches, players may suffer injuries, this situation may change from the next stopping period.".
On facing Liverpool, he said: "Against Liverpool, we were ready and everything was taken into account, and then we suffered. The good thing is that we were able to react during the difficulties. Liverpool is more good and they play at high speed.".
Pioli stressed: "The level in England is very high, we have to improve on the field and as a tactical organization, and the ball must develop in Italy better, we do not suffer from the ghost of Donnarumma, we know how much he helped him in the past.".
And he concluded: "Mignon is an excellent goalkeeper and decisive in communication. I like the way he treats him in daily training and matches. We feel that we are a strong team. We prepare ourselves immediately for every match. We want to raise the pace of our play further. The seven clubs – the usual – are close in value.".