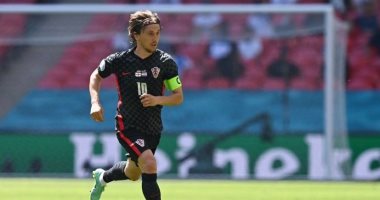 Croatia national football team coach Zlatko Dalic announced today, Monday, that Real Madrid's Luka Modric will return to the national team next October to participate in the European qualifiers for the 2022 World Cup, after missing three international matches due to injury.
"We are especially pleased with the return of Luka Modric, who, as a player and captain, is of great importance to us," Dalic said when revealing the list of players who will participate in the camp in preparation for the match against Cyprus and Slovakia.
He added that the team needs to "confirm what has been achieved so far with six additional points, for which we will need full focus and unity", as was done in previous matches.
Despite the absence of its leader, Croatia scored seven out of nine possible points in September, and is now at the top of Group H with 13 points, like Russia, followed by Slovakia, Slovenia, Malta and Cyprus.
The runners-up will meet with the Cyprus national team on October 8 in Larnaca, and three days later, they will play Slovakia in Osijek (Croatia).
Dalic announced that the national team will start its camp on October 4 in Zagreb, where it will train until the seventh of the same month, before heading to Larnaca, from which it will face Osijek.