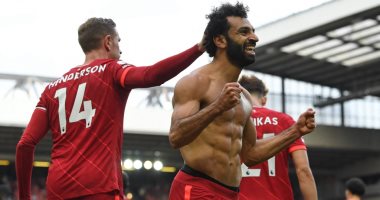 Our Egyptian star, Mohamed Salah, will enter a new test today, Saturday, when his Liverpool team will visit Brentford at "Griffin Park" stadium at 6:30 Cairo time, in the sixth round of the English Premier League competition.
Liverpool is in second place on the table with 13 points, equal with leaders Chelsea and Manchester United, third, with the same balance.
The Reds appear distinctly this season, as they seek in this match to win and snatch the full points in order to sit on top or go deeper into the golden box, so they will fight fiercely to get the full points from the opponent's fangs..
On the other hand, Brentford occupies the ninth place on the table with 8 points, which will work hard to prepare for this match in order to enhance its score of points to advance more on the ranking ladder.
Salah is preparing to break the clash with Manchester United player Bruno Fernandes, and West striker Michel Antonio, who is the top scorer in the English Premier League..
Mohamed Salah scored 4 goals during the English Premier League matches in which he participated this season, and also made two goals to top the scorers' list.
The British network, "Sky Sports", chose the Egyptian international, Mohamed Salah, as the best player in the English Premier League during the current season, surpassing all the players in the "Premier League" after the passage of 5 rounds of the most famous leagues in the world..
In its report on the players' evaluation, Sky Sports confirmed that Mohamed Salah scored 8,962 points, far ahead of his closest followers in the ranking of the best during the current season.
The German Jurgen Klopp, coach of Liverpool FC, had revealed the absence of Guinean midfielder Naby Keita, the team's midfielder, from the Brentford match due to a muscle injury.
Klopp said in the match press conference: "There is nothing dangerous but the injury will keep him out of the Brentford match, that is for sure, he may be out for a little longer, we will see, it is painful and we have to see how he deals with the injury, it is not great, he has had preparations. Good pre-season, he played a lot of games, but it happens."
And on the date of Thiago Alcantara's return: "Maybe he will be out for a little longer, we will see, it is painful and we have to see how he deals with the injury, it is not great, he had good preparations before the season and played a lot of matches but it happens, maybe he will return after the international break on Most likely."
As for the Brentford team, he said: "Very cool, I watched their press conference and it was one of the most entertaining things I've seen in years with Thomas Frank. Their style of play and organization is incredible. How they buy players, with less money they can create something special."