Britain's Sky Sports chose Egyptian international Mohamed Salah as the best player in the English Premier League this season, outperforming all the players in the "Premier League" after 5 rounds of competitions in the most famous leagues in the world.
In its report on the players' evaluation, Sky Sports confirmed that Mohamed Salah scored 8,962 points, far ahead of his closest followers in the ranking of the best during the current season.
The network stressed that Mohamed Salah continued to score for the third match in a row, and he also succeeded in scoring with 4 goals and 2 assists in only 5 matches, which confirms that he presents distinguished levels with the Reds.
In second place came the Brazilian star Alison Becker, the Liverpool goalkeeper, who scored 8135 points during the current season of the English Premier League.
While Chelsea's Marcos Alonso came in third place with 7406 points, followed by his teammates Thiago Silva with 7370 points, and Romelu Lukaku with 6948 points.
In sixth place, Senegalese player Sadio Mane of Liverpool, with 6,739 points, followed by Ederson, Manchester City goalkeeper, in seventh place, with 6,716 points.
Ismael Sarr of Watford came in eighth place with 6626 points, followed by Edward Mendy of Chelsea with 6595 points, and finally Bruno Fernandes was in tenth place with 6525 points.
The list of the top 10 players in the English Premier League, according to the Sky Sports assessment, is as follows: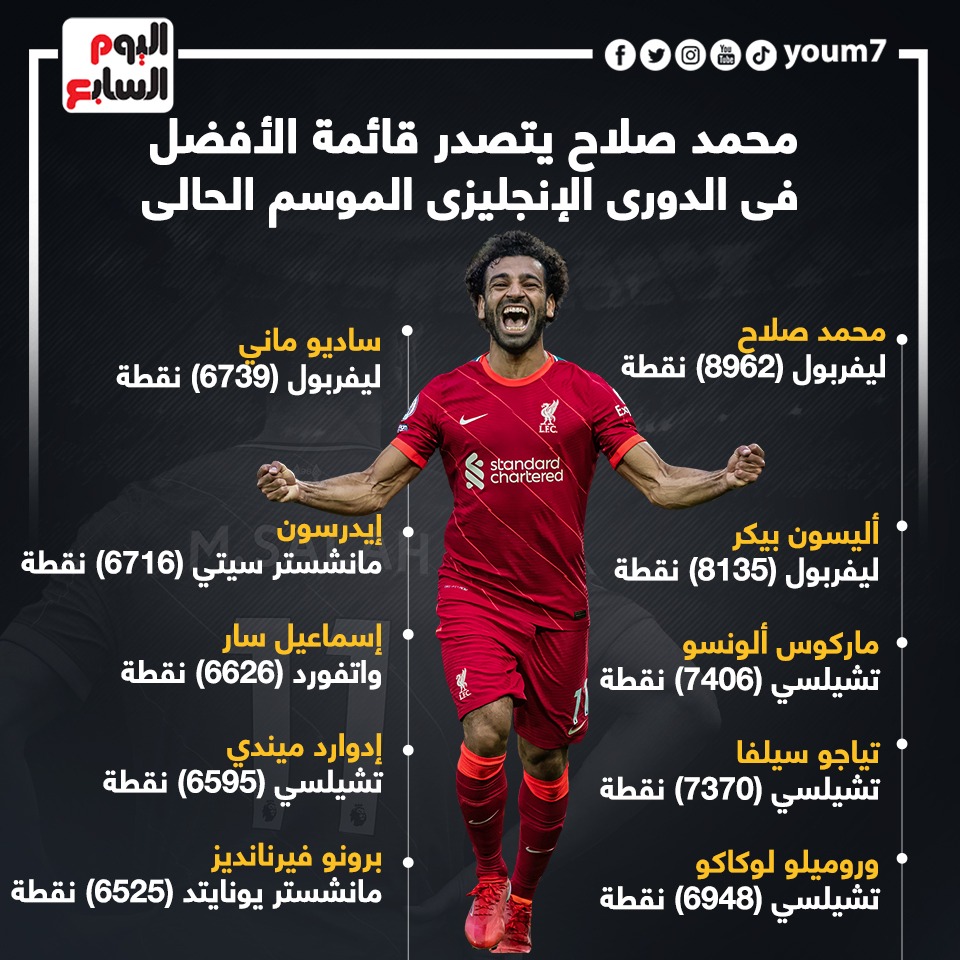 Mohamed Salah
Mohamed Salah: Liverpool (8962) points
Alisson Becker: Liverpool (8135) points
Marcos Alonso: Chelsea (7406) points
Thiago Silva: Chelsea (7370) points
Romelu Lukaku: Chelsea (6948) points
Sadio Mane: Liverpool (6,739) points
Ederson: Manchester City (6716) points
Ismael Sarr: Watford (6626) points
Edward Mendy: Chelsea (6,595) points
Bruno Fernandes: Manchester United (6525) points