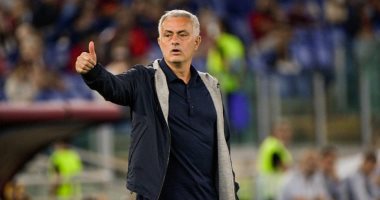 The Portuguese coach, Jose Mourinho, spoke about the difficult victory of his team against Udinese, Thursday evening, in the match that brought them together at the "Olympico" stadium in the fifth round of the Italian Serie A championship "Calcio" for the current season 2021/22.
Jose Mourinho told Sky Sports Italia: "The match after the defeat is getting more difficult from an emotional point of view, but the first 35 minutes were the best for us in the league.
Mourinho added: "The game was in our pockets, in the second half the reaction of Udinese, after we lost a little control, but we were always a team."
Warma coach explained: "In the last minutes We had no problems, even though we lost a player because of a red card, it's a tough game, but we deserve three points."
Mourinho stressed: "I miss time and maybe something else that I don't want to talk about, at the moment I am focused on building the team, the club is working on the organizational level very well, and I am simply making my contribution related to my experience, we need time and something more, but time will make it happen. ".
The Roma coach continued his speech in a message to the management, saying: "They also need time, crazy ownership does not care about the future of the club, we have many examples of this type of management throughout Europe, this property cares today and tomorrow as well, things must be done in order to be The club is sustainable, the fans have to control their emotions and support the team like they did tonight, I liked it so much, we felt that people were with us even after the defeat, it means a lot to me, 12 points in 5 games is very good and we have to continue with confidence."
On the dismissal of his player Lorenzo Pellegrini, Mourinho said: "I do not know the legal mechanisms in Italian football, but we have to try in every way to make him play on Sunday against Lazio. .
Mourinho continued: "A harsh card, I call it ridiculous, we had a learning meeting with Valerie who explained all the rules to us for two hours, then we get to the match and we get red like that, I can't say anything but that it's ridiculous, football is and always will be, you can't Changing it to a non-contact sport.
With this result, Roma rose to fourth place in the Italian league standings with 12 points collected from winning in 4 confrontations and losing in a single meeting, scoring 12 goals and receiving 5 goals.
While Udinese fell in the Italian league standings, after it came to the tenth place with 7 points, from winning two matches, drawing one, losing two matches, scoring 6 goals and receiving 7.