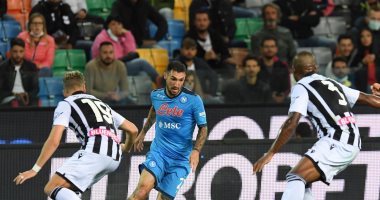 Napoli swept its host Udinese by 4-0 in the match that brought them together this evening, Monday, at the "Alfrioli" stadium, in the fourth round of the Italian Serie A championship for the current season 2021/22.
Napoli's goals were scored by Victor Osimhen (24), Emre Rahmani (35), Kalidou Koulibaly (52) and Hirving Lozano (84) respectively for Napoli.
With this result, Napoli rose to the top of the Italian league standings with 12 points collected from winning its past four matches, becoming the only team that managed to achieve the full mark so far.
Napoli raised its score to 10 in return for receiving two goals as the strongest defensive line and the second strongest front line behind Lazio, who scored 11 goals.
While Udinese's balance stopped at the seventh point, occupying the eighth place in the Italian league table "Calcio".
The Napoli squad was as follows:
Ospina, Di Lorenzo, Rahmani, Coulibaly, Mario Rui, Anguisa, Fabian, Elmas, Politano, Osimene, Insigne.
While the Udinese formation was as follows:
Silvestri, Picao, Neutnik, Samir, Molina, Arslan, Wallace, Pereira, Streiger Larsen, Pussetto, Deulofeu.