Although it is common for high blood pressure to be a disease of the elderly, medical facts indicate that it may extend to young children, and children may suffer from high blood pressure in some cases.
For her part, Dr. Aya Fattouh, Professor of Pediatric Cardiology at Abu El-Rish Hospital, affiliated with Cairo University, revealed that high blood pressure in newborns is not common, but its occurrence causes concern and requires careful follow-up, and the intervention of pediatricians, who are often in nurseries.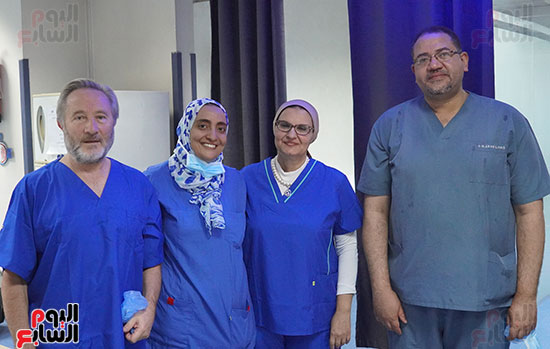 DA with Dr. Hala Agha
She said that the causes range from congenital heart or kidney defects, endocrine injury, or as a result of premature birth in premature babies, whose treatment requires a long stay on ventilators, in addition to taking some medications necessary to treat some critical cases.
She explained, that this problem requires follow-up and close monitoring of children and determine the cause for treatment, explaining, Most of the cases are diagnosed while they are in nurseries, noting that the first step in treating them is to identify the cause and treat it with the use of medications necessary to reduce high blood pressure.
She said, that newborns are usually confined to care rooms, but a child who is not in a nursery shows some symptoms that the mother can notice, such as refusal to breastfeed, or lethargy, and in some severe cases, complications occur in the nervous system such as convulsions, which prompts parents to request Medical advice, and here the doctor's role is to examine the child carefully and measure the pressure in case there are any warning signs of this problem.
She added, that not treating the child's high blood pressure leads to an enlarged heart muscle.
She said that the incidence of high blood pressure ranges between 3% to 2% in the world, explaining that in most cases, high blood pressure is the result of other problems whose treatment leads to the improvement of the child's condition, and the return of pressure to normal rates.
This came during the Abu El-Rish University Hospital conference, currently being held in Cairo. Professor Alexandro Virgiola, Professor and Head of the Cardiac Surgery Unit at San Donato Hospital in Italy, confirmed that there is a joint cooperation between Abu El Rish Hospital and Italy in the field of training doctors and installing stents as well as implanting pulmonary valves, explaining that there is great progress in diagnosing and treating congenital heart defects in children.
Professor Ziad Hegazy, a professor at Weill Cornell University in New York, also participated in the conference, who stressed the need to provide and support pharmaceutical companies for pulmonary valves, because children are exposed to death if they cannot provide them because they are expensive, explaining that valves give the child life again, and calls not to Rely only on providing it through donations, but manufacturers must be obligated to provide it to children at cheap prices for the state to give it to children for free.
The conference was also attended by Professor Mario Carmenati, expert and head of the Department of Pediatric Cardiology and Catheterization at San Donato Hospital in Italy.