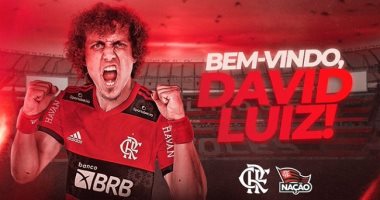 The Brazilian club Flamengo announced today, Saturday, the signing of veteran defender David Luiz in a free transfer deal, after the end of his contract with his former club Arsenal, at the end of last season.
"He was born in Diadema, traveled the world and used to win, win and win, just as our anthem says, people screamed, heart trembled and now he will wear red and black, the biggest fan in the world, David Luiz is the new player."
The former Arsenal defender will wear the number 23 shirt with Flamengo, and his contract will be with his new club until December 2022.
And the "Football Italia" website had indicated earlier that the Brazilian defender Luiz will sign a contract with Flamengo team for a period of one year ending in December 2022, in a free deal.
The report added that the Arsenal defender chose to return to Brazil, despite receiving many offers during the recent period from the Italian clubs Lazio and Salernitana, alongside the Portuguese Benfica and the Turkish Demirspor, to join him, but he preferred the Flamengo offer.
The Brazilian defender began his career with the Vitoria team, before leaving to Benfica in the summer of 2007, and stayed with him until 2011, to join the English team Chile until 2014, then moved to Paris Saint-Germain, France, before returning again to the Blues ranks in 2016.
Luiz's last stop in Europe was with Arsenal, who stayed with him for two seasons.