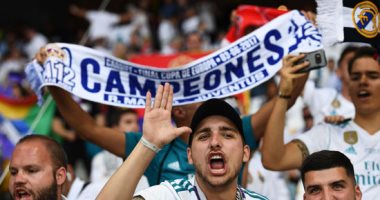 Today, Wednesday, the Spanish Ministry of Health agreed to increase the number of fans in the stadiums of the Spanish League to 60% instead of 40%, starting from the fourth round of La Liga matches scheduled for September 10.
According to the Spanish newspaper "Marca", the Ministry of Health decided to increase the capacity of the fans in the stadiums to 60% of the stadium's capacity, starting from the fourth round of the competition.
And the competitions of the new season of La Liga had started with a public attendance of 40%, before the Spanish Ministry of Health agreed to increase the attendance rate.
Real Madrid leads the Spanish league standings for the current season 2021-2022, with 7 points, ahead of Valencia, Seville, Barcelona, ​​Atletico Madrid and Real Mallorca, who have the same number of points.
In another context, the International Court of Sports "CAS" rejected the complaint submitted by the Spanish League against the International Football Association "FIFA", because of the first position on allowing South American professional players in the ranks of Spanish clubs to join their teams, and demanded that the association not prevent any player from Join his national team during the week of international matches.
The League had refused the South American players to join their national teams, due to the increase in the duration of the international call-up there from 9 to 11 days, and in what would reduce the possibility of players catching up in the matches of the next round of the local championship with their teams, in addition to the stress that would fall on them due to travel. Play 3 matches in a short period of time.
For its part, the Spanish League and its president, Javier Tebas, expressed their dissatisfaction with this decision, and confirmed that they would have to postpone and cancel some matches in order to reduce the damage caused by the CAS decision, including the matches between Seville, Barcelona and Villarreal against Alaves (they were scheduled to take place on September 11). ) next.