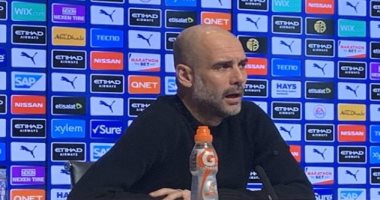 Manchester City coach Pep Guardiola has wished the Argentinean Lionel Messi, Paris Saint-Germain's player, to participate against his team tomorrow in the Champions League, for the sake of the football game.
Paris Saint-Germain vs Man City

Guardiola said about Messi during the press conference for the match between Paris Saint-Germain and Manchester City, "He is an exceptional player, the type of player that speaks on the field, I do not have to add anything, we are lucky to see him for 15 years, I do not have to talk about him or describe him, I hope that He plays tomorrow for the sake of the match."
Paris Saint-Germain vs Man City

Paris Saint-Germain will host Manchester City at nine in the evening tomorrow, at the Princes Park, in the first group competition, which City leads with 3 points, after its broad victory in the first round over Leipzig, 6-3, while the Paris team fell into a draw. The positive result is against its Belgian host Club Brugge, with a score of 1-1, and in the same group, Leipzig faces its counterpart Club Brugge.
Pep commented on Lionel Messi's departure from Barcelona, ​​saying, "It was a surprise for everyone, everyone accepts it now a long time ago, you could not imagine that, but life itself happened, you never know what happens, the important thing is that he will be happy there in Paris."
Paris Saint-Germain vs Man City

Guardiola added, "Paris players unite well, Messi can play right and in the middle, Mbappe is also in the front and center, they can do whatever they like, talented players can only be stopped by teamwork, that we help each other and press fiercely, you have to endure for 90 minutes." .
And the Spanish coach continued: "The matches against Paris were better in the first half in Paris.."
The City coach continued: "I'm a big fan of Marquinhos and the Paris Saint-Germain midfielders, they have dangerous players and good players everywhere. We have to work hard to stop them."
Guardiola continued: "Last year's match, Paris punished us well in the rebounds, good defense and a lot of flexibility, but they have a great team.
Paris Saint-Germain vs Man City

And he added, "The most important thing is to gain confidence. Win three games in a row or lose. I don't care. It's a new season, a new challenge. I don't care if you win or lose three games in a row. The important thing is that we played a match three days ago and I got confidence, but six days ago." We drew with Southampton, football is high and low."
On how to stop the Paris trio in the offensive line, Pep said: "I don't know, they are very good, the talent to control them is very difficult, you have to defend well without the ball and let them run when we get the ball, exceptional players, everyone knows that..."
Paris Saint-Germain vs Man City

Pep added, "We always defend well because everyone puts their courage together. It depends on running and wanting to help, it's not just about defending, it's about what we do with the ball."
Pep confirmed the absence of his star, Ilkay Gundogan, from the matches between Paris Saint-Germain and Liverpool.
Guardiola also did not respond to a question from the French journalist regarding Benjamin Mendy.