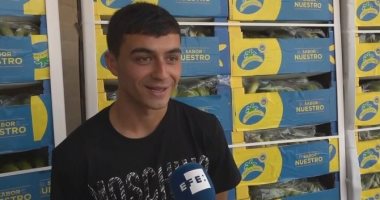 Pedri Gonzalez, Barcelona and Spain midfielder, confirmed today, Thursday, that he prefers "to be on the field playing football because the situation is worse abroad", and that he is "very happy with what the Spain team did" during the qualifying matches for the World Cup Qatar 2022..
Pedri made statements to the Spanish news agency, while attending an event to distribute food aid to food banks in Barcelona, ​​in which he said: "I feel proud to help people in need, it is something that makes me happy."
He continued, "I would very much like to start working. Of course rest is important, but in fact when you get a break for three or four days you want to go back to the field and enjoy what you love most."
Regarding the current season, Pedri, who won the Tokyo Olympics silver with the Olympic team and reached the Euro 2020 semi-finals with the first team, confirmed that he will play it "with the same desires as last year and more", and that he will continue to work "with a great desire to continue to develop".
When asked about the World Cup qualifiers that La Roja played over the past few days, Pedri said: "We knew it wouldn't be easy and we already see that, all the teams compete and it's hard to beat everyone, but I think we have a team that is able to qualifying."
It is noteworthy that Pedri (18 years) made a great effort last season, as he played 75 official matches between the Spanish first division competitions "La Liga", the Champions League, the King's Cup, the Spanish Super Cup, the Euro and the Tokyo Olympics, so Barcelona gave him two weeks off to catch his breath. .
Pedri returned to Catalonia last Monday to participate in the training sessions under the leadership of Dutch coach Ronald Koeman and enter the atmosphere of competition with Barcelona.