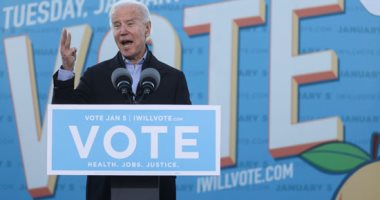 US President-elect Joe Biden began his campaign to support the Democratic Party's candidates for the Senate in Georgia, in light of the intensification of competition for the last seats, which determine the identity of the majority.
Biden and Vice President Kamala Harris are both backing Democratic Senate candidates John Usoff and Raphael Warnock.
The American magazine Newsweek said that John Usoff and Raval Warnock, the Democratic run-off candidates for the two Georgia state Senate seats, are ahead of their Republican rivals, as President Trump continues to cause difficulties for Republican incumbents.