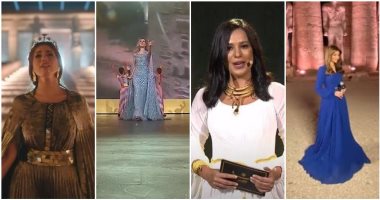 The celebration of the opening of the Rams Road caught the attention of the whole world in Luxor Governorate, and all the details of the ceremony gained the attention and admiration of the followers, who especially caught their attention the women's looks at the ceremony, whether for announcers, singers or artists participating in the various reviews of the ceremony.
The fashion expert, Mustafa Al-Shafei, told "The Seventh Day" that the costumes at the opening ceremony of the Rams Road were perfectly coordinated and harmonious with the ceremony, and were characterized by a pharaonic character that combined simplicity, luxury and elegance, and the choice of colors was ideal.
hidden messages in fashion
The fashion expert said about the color codes chosen for the costumes at the ceremony, that it indicated adherence to the beauty of the Pharaonic civilization, saying that the use of white color was distinguished by the princesses and symbolized the high social status, while the use of black color symbolized the fertility of the soil and of course the importance of the land, especially the celebration of the flood in Pharaonic times. Many connotations, including power and control.
He added that the costumes in such celebrations must explain all the meaning of all the details of the celebration, and from them translate to the world how proud the people of Egypt are in their civilization.
He continued about the yellow color that symbolizes eternity, so all the accessories and crowns of kings were of golden yellow, as for the blue color, which symbolizes the Nile and the restoration of life, and the kings used the blue color in abundance, which appeared strongly in their clothes and ornaments so that they could restore life again.
He concluded that the choice of clothes and colors was very suitable for the celebration and was consistent with the accessories with clothes and hairstyles.