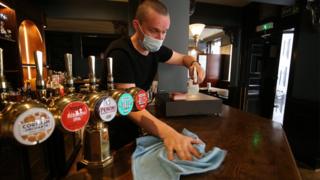 Pubs, hotel bars and restaurants will have to shut at 23:00 in Northern Ireland under new rules for the hospitality sector.
They will come into force from midnight on Wednesday.
Stormont ministers gave details of the decision in the assembly on Tuesday.
No alcohol or food will be served after 22:30 and all customers must leave by 23:00, said First Minister Arlene Foster.
She said there could be "no exceptions" to the rule, and it would also apply to weddings and other social gatherings.
'Bypass the pub'
Hospitality leaders had urged a later closing time for NI than in the rest of the UK, where it is 22:00.
Colin Neill, from Hospitality Ulster, said the announcement was "another blow to our industry".
"The sector is going to lose hours, its losing staff and it has lost live music and needs to be given a fighting chance," said Mr Neill.
"A curfew is not ideal, but we in the hospitality sector will do all we can to make this work, which hopefully will be only a temporary measure."
He said the curfew must be kept under continuous review.
Mr Neill said his organisation had lobbied the government for a 23:30 closing time, in line with the Republic of Ireland.
"My biggest fear is that they'll just bypass my industry altogether," he said.
"They'll bypass the pub and go straight to a house party."
Mrs Foster said the executive recognised the risk, but stressed gatherings in homes were currently illegal, following new restrictions imposed last week on household visits.
She stressed enforcement was a "priority" for ministers.
"We do not want to go there, we'd prefer that everyone works with us, but enforcement has a role," she added.
"We will be looking at the levels of fines we have."
The first minister said she regrets the time limit had to be imposed, but medical evidence showed "people socialising later in the evening is considered to increase the risk of the virus spreading".
"People adhere to rules less strictly in venues where they are used to less strict social distancing," she added.
In Northern Ireland, off-licences and supermarkets can sell alcohol until 23:00 most days. The cut-off is 22:00 on Sundays.
The executive said it had taken the decision to impose a 23:00 curfew in order to ensure a "consistent approach".