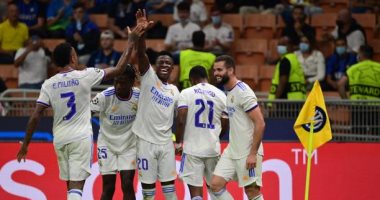 Real Madrid managed to achieve an exciting victory over its host, Inter Milan, with a clean goal, in the meeting that brought them together, on Wednesday evening, at the "Giuseppe Meazza" stadium, in the first round of the European Champions League competition in the current season 2021-2022, to become the only Spanish team He managed to win the first round of the group stage.
The young Brazilian Rodrygo scored the goal of Real Madrid's victory over Inter Milan, in the 89th minute of the match, after following the cross of Frenchman Eduardo Camavinga.
Barcelona had received a new defeat from Bayern Munich, by three goals, in the meeting that brought them together yesterday, Tuesday, at the Camp Nou, in the fifth group competition.
In the second group, Atletico Madrid fell to a goalless draw against its Portuguese guest, Porto, in the match that brought them together at the "Wanda Metropolitano" stadium, the stronghold of Rokhi Blancos.
Yesterday, Tuesday, Seville tied with its guest Red Bull Salzburg, Austria, 1-1, in the Group G competition.
Finally, Villarreal tied its guest team, Atalanta, 2-2, in the Group F competition.
It is worth noting that the matches of the second round of the Champions League group stage will be held on September 28 and 29.