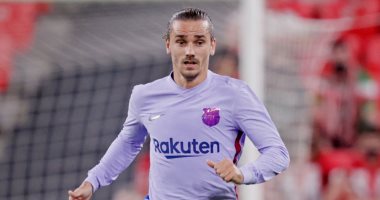 The media suggested that Barcelona striker Antoine Griezmann's transfer to Atletico Madrid would falter due to Chelsea's delay in completing the signing of Saul Niguez from Roji Blancos before the summer Mercato closed.
And according to the Spanish newspaper, "Cadena Ser", Saul Niguez's deal to Chelsea has not been completed, and this means that Antoine Griezmann will not return to Atletico Madrid, and Luke de Jong's deal to Barcelona has failed.
While Fabrizio Romano, a correspondent for Sky Sports Italia, spoke: "There is no problem between Atletico Madrid and Chelsea, everything is ready, it remains only to check the contracts and sign, the deal of Griezmann and Luke de Jong depends on the Saul deal."
The Spanish program "Alchiringuito" indicated that Luke de Jong's transfer to Barcelona failed, and the Dutch striker will remain in Seville.
The program said that the issue of Griezmann's transfer to Atletico Madrid and Saul to Chelsea and Luke de Jong to Barcelona is not clear, as some journalists indicate that if the communication takes place before the time of the Mercato's closing, they are entitled to be registered later.
In a related context, French press reports revealed that the Spanish club, Atletico Madrid, decided to restore the services of French international Antoine Griezmann, the Barcelona striker, on loan in the last hours of the current summer transfers.
"Atletico Madrid managed to bring back Antoine Griezmann on the last day of the transfer window," L'Equipe newspaper said in a report.
The newspaper added: "The 30-year-old French international is on loan from Barcelona with an option to buy.".
The name of Griezmann was linked weeks ago with the possibility of returning to Atletico Madrid again in a reciprocal deal for its hero, Saul Niguez, but Barcelona did not reach an agreement with the Spanish champion to remain the French international..
Barcelona made an offer to borrow Felix from Atletico, but the capital club rejected the offer, so Blaugrana made a new offer, exchanging it for Griezmann.

Press reports indicate that Atletico coach Diego Simeone will be happy with Griezmann's return, but club president Enrique Cerezo is not convinced of Joao Felix's departure.
Atlético Madrid are consulting on whether Griezmann can score once the departure of Sail Niguez to Chelsea is calculated. It is already a matter of minutes that everything is official as long as the salary limit is met.