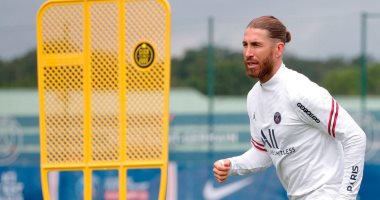 The Spanish star, Sergio Ramos, the French defender of Paris Saint-Germain, received a painful blow, after a renewed injury to the leg level, which prevented him from appearing in the Paris team matches this season, since he joined the last summer Mercato.
Ramos, 35, joined Paris Saint-Germain on a two-year contract, after the end of his contract with his former club Real Madrid, with whom he spent 16 years.
According to the French newspaper, L'Equipe, Ramos has suffered a new setback, as he is still suffering from a calf injury, which will prevent him from participating in the match against Clermont scheduled for tomorrow, Saturday, in the fifth round of the French League, in addition to meeting Club Brugge in the round. The first of the Champions League group stage next Wednesday.
The veteran Spanish defender has not participated in any official match in the Paris team shirt since joining the team during the last summer Mercato, due to injury.
In another context, Kylian Mbappe returned to Paris Saint-Germain training, Thursday, after recovering from the muscle injury he suffered with the France national team during the ended international break.
And Kylian Mbappe had suffered a muscle injury, which led to his leaving the France camp, and his absence from the matches of Bosnia and Herzegovina and Finland in the European qualifiers for the 2022 World Cup in Qatar.
Paris Saint-Germain leads the French league standings with 12 points, after 4 rounds of the competition.