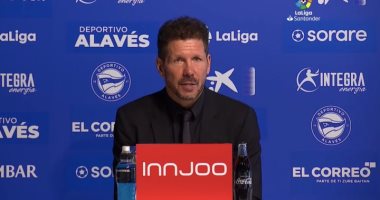 Argentine coach Diego Simeone, coach of Atletico Madrid, spoke about his team's readiness to face rival AC Milan, tomorrow evening, Tuesday, in the second round of the group stage of the Champions League..
The San Siro stadium in Milan will host, at nine in the evening, tomorrow, Tuesday, the Milan match against Atletico Madrid in the Champions League.
Simeone said in the match press conference: "Many of the matches we played so far the opponent sought to take more space than us, the best match we played was Villarreal. and change".
Simone added: "Defensive gaps? I don't think it's because of the system, it can be the focus, it doesn't matter with 5 or four defenders, their chances appeared when the team was divided, the goal goes through the focus."
The Atlético Madrid coach continued, "The most important thing is that we must improve. Everything else will come with the matches the next day on Tuesday against Milan, which is the key to the rest of the Champions League."
"We have to keep improving, we must try to have a more regular match, we face irregular minutes during the same match, I trust the team we have and the work we can do to improve the team," Simone added.
And he answered in response to a question regarding the team's memory at San Siro: "I don't stop much at this moment, I do in the present and tomorrow's opponent who plays well is doing well. About the best footballers in our squad.
The Argentine coach continued: "The state of the team is positive, we are a team of experienced people who are playing very well, there are different results and you have to know how to deal with them. good."
Simeone concluded: "To be back playing a game against an important team like Milan is great, they are the best teams with the most history in this competition, they have grown a lot in these years and I am happy to be back in Italy, I had a great time here and I love Milan Stadium.."