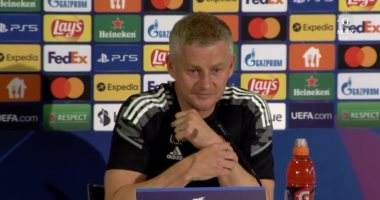 Manchester United coach Ole Gunnar Solskjaer said he understands the frustration of Dutch midfielder Donny van de Beek due to not participating in the matches, during the press conference for the upcoming Everton match tomorrow, Saturday, in the seventh round of the English Premier League.
Solskjaer said during the press conference of the meeting: "I manage a team of international footballers, Donny has to be ready to participate at any time, as should the rest of the players, I have to rely on the benches. I was not happy several times. Alex Telles performed at left-back. Fabulous and Fred also played well."
He added: "Van de Beek did well when he played on the sides this season, and last season as well, it's still early days and the Dutchman still has plenty of time to work."
He continued: "There was a lot of match pressure before the international break in October, with United playing four home matches in just 11 days, the rotation of the team was important and the rotation will continue as well when United face Everton."
On Cristiano Ronaldo, he commented: "Cristiano Ronaldo has had a huge impact on and off the field. Five goals in five games at his age says it all. You have to manage him. He is a very good example for everyone. It may take a long time."
Manchester United is fourth in the English Premier League standings with 13 points, collected from four victories, a draw and a defeat.
As for Everton, it occupies fifth place in the English Premier League table with 13 points, collected by winning in four games, a draw and a defeat, but it is behind Manchester United by goal difference.