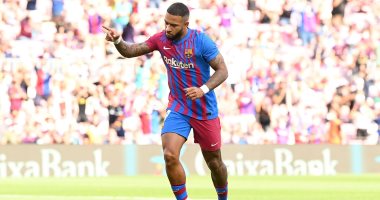 The Barcelona team returned to victories again in the League, after it achieved an easy victory over its guest Levante, 3-0, in the match that took place between them this evening, Sunday, at the Camp Nou stadium, the stronghold of the Catalan team, in the seventh round of the league competition. The Spanish "La Liga" for the current season 2021-2022.
Summary and goals of the Barcelona match against Levante
Memphis Depay scored the first goal for Barcelona through a penalty kick in the seventh minute of the match, and Luke de Jong added the second goal in the 14th minute of the match, his first goal in the Catalan team shirt after joining him during the last summer transfer period.
The "Opta" network, which specializes in statistics and records, reported that two players from the Netherlands managed to score two goals in the same match in the Spanish League for the first time since March 2009.
Depay and De Jong repeated the achievement of Dutch duo Klaas-Jan Huntelaar and Arjen Robben with Real Madrid in the Athletic Bilbao match, which was held at the "San Mames" stadium, the Basque team's stronghold.
The rising talent Ansu Fati concluded the Barcelona hat-trick against Levante in the last minute of the match, after the young star returned to participate again with the Catalan team after a long absence of injury.
Fati participated as a substitute for Dutch striker Luke de Jong, to appear in the No. 10 shirt with Barcelona, ​​​​for the first time since the departure of Argentine star Lionel Messi to Paris Saint-Germain during the last summer transfer period.
Alfred Schroeder sat on the Barcelona bench to manage the match instead of the suspended Ronald Koeman, after the Spanish Football Federation's Competition Committee announced a two-match ban after he was expelled during the Cadiz match.
With this result, Barcelona advances to fifth place in the La Liga standings, after raising its score to 12 points, while Levante has only 4 points to occupy the 17th place.
Barcelona regained the tone of victories again in the current La Liga season, after falling into the trap of a draw in the last two matches of the competition against Granada, 1-1, and then a negative tie against Cadiz at the Ramon de Carranza stadium at the end of the sixth round matches.