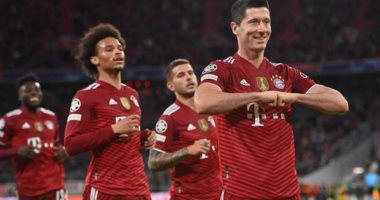 Bayern Munich won an exciting victory at the expense of its Ukrainian counterpart, Dynamo Kiev, 5-0 in the match that was held between them today, Wednesday, at the Allianz Arena, in the second round of the group stage of the Champions League for the current season 2021/2022..
Bayern Munich scored the goals of the Polish star Robert Lewandowski (two goals) in the 12th minute from a penalty kick, and 27 from assisted star Thomas Muller, to raise his score to 77 goals in the history of the Champions League. 68, 74, and 87, respectively.
With this result, Bayern Munich continued to lead the standings of Group E in the Champions League with 6 points collected from the victory over Barcelona last round in the "Camp Nou" before returning and winning at the expense of Dynamo Kiev at Allianz Arena on Wednesday evening.
Meanwhile, Dynamo Kiev is third in the Group E table, with one point, collected from a draw with Benfica in the first round, before suffering a severe loss against Bayern Munich on Wednesday evening..
Bayern Munich
Bayern Munich achieved a series of distinguished victories throughout 8 consecutive meetings, starting with the German Super Cup after defeating Borussia Dortmund 3-1 and crowning the title, then 5 German Badlory victories, in addition to defeating Barcelona by three in the opening of the Champions League campaign before adding today's victory to the series Positive results this season.
Bayern Munich leads the German league standings with 16 points, collected from 6 matches, between 5 victories and one draw..
And according to the global network "Skawaka", Robert Lewandowski scored in every home match he played with Bayern Munich in 2021. 26 goals in 14 matches.
While the global network "Opta" confirmed that Robert Lewandowski scored 119 goals in his last 100 games with Bayern Munich, while he scored six goals more than any other player in the five major leagues in Europe in all competitions in 2021 (41).
Bayern Munich
The Bayern Munich line-up was as follows:..
Goalkeeper: Manuel Neuer.
Defense Line: Lucas Hernandez – Daewoo Upamecano – Sule – Alfonso Davies.
Midfield: Joshua Kimmich – Leon Goretzka – Leroy Sane.
Forwards: Serge Gnabry – Thomas Muller – Robert Lewandowski.