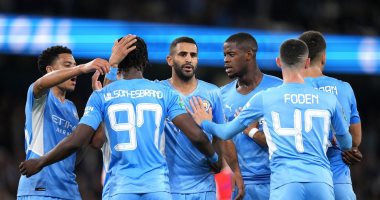 Manchester City defeated its rival Lycombe 6-1 in the match that was held between them today, Tuesday, at the "Al Ittihad" stadium, in the third round of the Carabao Cup, to qualify for the round of sixteen of the competition, which The Citizens bears her nickname.
The goals of the match came through Brandon Halnon in the 22nd minute for Wycombe, before City returned with two consecutive goals through Kevin De Bruyne and Riyad Mahrez (two goals), Phil Foden, Ferran Torres, and Cole Palmer in the 29th, 43rd, 45th and 71st minutes. , 83, and 88, respectively.
The match witnessed the brilliance of the Algerian star Riyad Mahrez, who scored two goals and made another in one of the happy surprises for the Spanish coach Pep Guardiola, who relies a lot on the player in the upcoming difficult matches for the team in the English Premier League.
Mahrez managed to hit 4 balls on the goal, including 3 between the posts and the crossbar, and he also succeeded in providing 7 key passes.
The Algerian player dribbled one, and passed 56 balls, with an accuracy of 92.9%, and he also succeeded in passing two crosses.
The Manchester City line-up is as follows: Stephen, Eagan Riley, Mbeti, Burns, Wilson Esperand, Sterling, Lafia, De Bruyne, Foden, Mahrez, Torres.