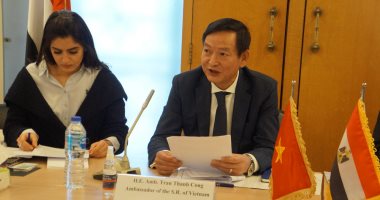 Tran Thanh Kung, Ambassador of the Republic of Vietnam in Cairo, said that economic and trade cooperation between Egypt and Vietnam has witnessed an advanced step forward and achieved encouraging results, following the visit of President Abdel Fattah El-Sisi to Vietnam in 2017, and the late Vietnamese President Tran Dai Quang came to Egypt in August 2018 It gave a strong impetus to enhance our cooperation in all fields in the future.
During the activities of the Egyptian-Vietnamese Economic Business Forum organized by the Egyptian Chamber of Commerce in Alexandria, he emphasized that the volume of bilateral trade in 2019 amounted to about $ 491 million, of which Vietnamese exports to the Egyptian market amounted to $ 458 million, and Vietnamese imports from Egypt amounted to $ 33 million in various Egyptian goods. He explained that these numbers are still at a modest level and below our capabilities, and there are many reasons that must be considered in this matter.
He pointed out that the lack of information about the commercial market represents the biggest challenge, therefore, more activities to promote trade and investment between the two countries, such as today's meeting in the Alexandria Chamber, should be encouraged, explaining that the Vietnamese embassy will provide all basic information about the Vietnamese market and answer all your inquiries, if any. Which contributes to learning more about the Vietnamese market, and we welcome any suggestions and recommendations to enhance bilateral economic and trade relations.
During his speech at the opening of the forum's activities, the ambassador offered his thanks and gratitude to the Egyptian Chamber of Commerce in Alexandria for its support and cooperation with the Embassy of Vietnam for holding this economic forum entitled "Discussing ways of cooperation and commercial and economic potentials between Egypt and Vietnam."
The ambassador talked about the situation in Vietnam, noting that the population of the country of Vietnam is currently 95 million, but with a high economic growth rate of more than 6% for 30 consecutive years, as well as security and political stability, Vietnam is seen as a good destination. For investment activities and also a gateway to the Southeast Asian market, "ASEAN" that brings together about 650 million people.
So far, he explained, Vietnam has received foreign direct investment from 138 countries as "32,658 foreign direct investment projects with a total registered capital of 381.5 billion US dollars." In addition, 13 free trade agreements have been signed with all economic powers and major powers in the world This is another advantage of any company eager to invest in Vietnam.
He added that Vietnam has become one of the countries producing mainly in the world for many products such as electronics, clothes, shoes, furniture, basa fish, shrimp, cashews, coffee, black pepper and rice, and this feature has also opened the door for many commercial opportunities for world merchants to get their goods from Vietnam.
The ambassador said that as a member of the World Trade Organization, Vietnam adheres to what has been assigned to the World Trade Organization and welcomes all good supplies of imports from all parts of the world, including Egypt.
The ambassador reviewed the Egyptian-Vietnamese relations, referring to the beginning of the diplomatic relations between the two countries dating back to 1963 AD, stressing that our bilateral political relationship that binds us for more than 57 years is a solid basis for expansion and strengthening of cooperative relations in many areas between the two countries and in terms of investment and trade relations should be The main pillars of strengthening relations. "