The Argentine star, Lionel Messi, who joined the French team Paris Saint-Germain, reached the 55th hat-trick in his football career, after scoring 3 goals against the Bolivian team, in the meeting that took place on Friday morning, in the tenth round of the South American qualifiers for the 2022 World Cup.
And the British newspaper "Sun" indicated in a report that Messi reached the 55th hat-trick, approaching the most hat-trick player in the 21st century, Portuguese star Cristiano Ronaldo, Manchester United striker.
The newspaper pointed out that Ronaldo scored 57 hat-tricks in his history, with clubs and the national team, was the first Against Newcastle United in the English Premier League in January 2008, with Manchester United, before his appearance again with the Red Devils and against Newcastle also on Saturday evening in the Premier League.
Here are the 10 most hat-trick players of the 21st century.
1- Cristiano Ronaldo – 57
2- Argentine Lionel Messi – 55
3- Uruguayan Luis Suarez – 29
4- Poland's Robert Lewandowski – 24
5- Germany's Mario Gomez – 18
6- Dutchman Klaas-Jan Huntelaar – 18
7- Argentine Sergio Aguero – 18
8- Swede Zlatan Ibrahimovic – 17
9- England's Harry Kane – 15
10. Uruguayan Edinson Cavani – 15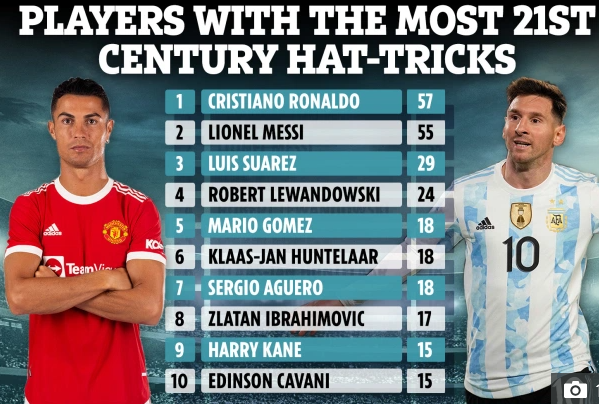 Most hat-trick players