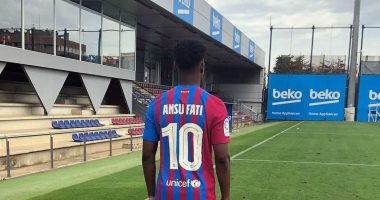 Barcelona gave the talent Ansu Fati the shirt of Argentine star Lionel Messi, after his departure from the Blaugrana, which ended in the summer, and joining Paris Saint-Germain.
FC Barcelona, ​​through its official account on the social networking site "Twitter", published a video showing Ansu Fati the moment he was given the vacant No. 10 shirt after the departure of Lionel Messi from the ranks of the Catalan team.
Barcelona, ​​after giving Ansu Fati the Messi shirt, commented, "Our new player No. 10, made in La Masia."
Messi's No. 10 shirt has been vacant throughout the recent period, after Argentine Lionel Messi left Barcelona to join Paris Saint-Germain.
Ansu Fati, 18, has been absent from Barcelona for the last period due to injury, but he is expected to return soon to participate in the matches with the Dutch squad, Ronald Koeman.
It is worth noting that several reports have been reported about the Brazilian Philippe Coutinho wearing the Lionel Messi shirt, but this news was denied by Barca.