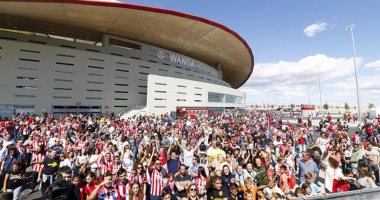 The Spanish Ministry of Health issued a decision approving the return of the masses to the La Liga stadiums in full, starting from the first of next October.
And, according to the Catalan newspaper, "Sport", the Regional Council of the National Health System agreed that the fans would return to the stadiums at full capacity, starting from October 1, next, especially the professional league matches, and the capacity will be 100%.
She added that although the regional council of the national health system agreed to fully attend the matches in Spain, fans were warned of the need to respect health regulations, by wearing masks and masks and not attending food or allowing smoking.
And she concluded that after this decision, the match between Atletico Madrid and Barcelona at the "Wanda Metropolitano" stadium, in the seventh round of the Spanish League competition, which is scheduled to be held next Sunday, is awaiting a full audience.
Atlético Madrid is fourth in the Spanish league standings, with 14 points, while Barcelona is sixth with 12 points.