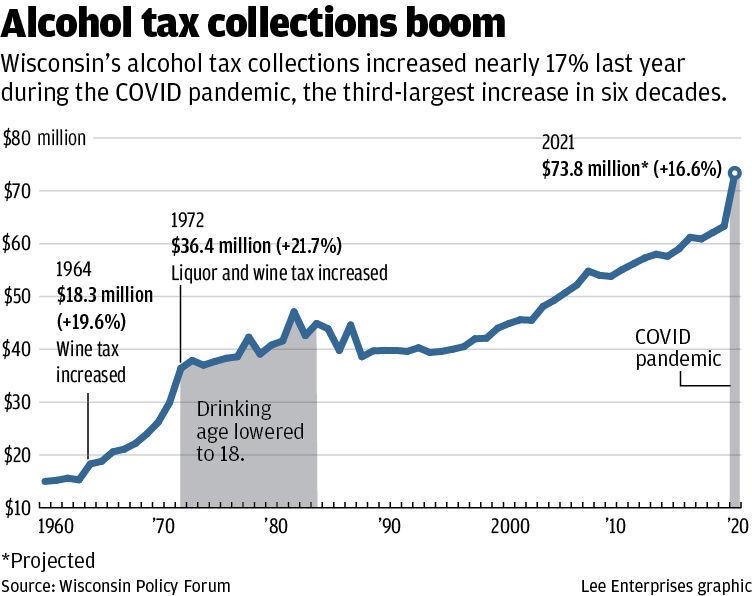 If you feel like you've been drinking more alcohol during the past year's COVID-19 pandemic, the state of Wisconsin has the tax receipts to prove it.
Alcohol taxes collected in Wisconsin jumped nearly 17% in the fiscal year that ended June 30, according to state tax revenue data analyzed by the nonpartisan Wisconsin Policy Forum.
That's the largest jump since 1972, when the drinking age was lowered to 18 for a little more than a decade.
Data from the state Department of Administration and Legislative Fiscal Bureau show Wisconsin's excise tax revenue on alcoholic beverage sales are projected to reach about $73.8 million, a 16.6% increase from the $63.3 million collected in the previous fiscal year.
While it's difficult to fully evaluate COVID-19's impact on state alcohol sales, the Policy Forum reports it's likely that restrictions on gatherings and social events, paired with the mental and emotional toll of the ongoing pandemic, may have resulted in increased drinking habits in a state that already ranks high in alcohol consumption.
"For individuals, this period also may have generated increased stress about personal health and the health of loved ones, lost or reduced employment, fewer work or leisure activities, and challenges with school and child care," according to the report. "During such a period, it is perhaps unsurprising that alcohol sales increased in Wisconsin."